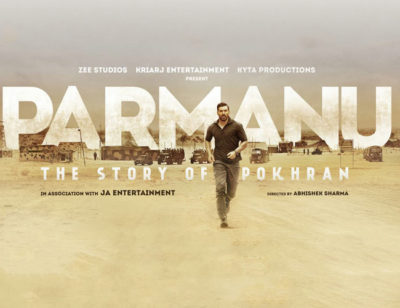 The Bombay high court on May 10, ruled that Parmanu would be released under the joint banner of JA Entertainment, Zee Studios and Kyta Productions. The film will be distributed by Vashu Bhagnani's Pooja Entertainment in India, while Zee Studios will take care of the overseas distribution. [Read order here]
The matter has been settled between Zee, Pooja Entertainment, JA Entertainment and Kriarj and consent terms have been filed in the court. Kriarj Entertainment is out of the film 'Parmanu'. Kyta Productions will be given credits in the film. Gothic Entertainment intervened in the matter but Justice Kathawalla refused to hear them and has directed them to come to the Court on May 22 when the matter is next listed.
The Court has directed the the Deputy Commissioner of Police under whose jurisdiction Khar Police Station, Mumbai is situated to comply with the Order dated 4th May, 2018 and file his report on 22nd May, 2018. Further, in the complaint filed by Gothic Entertainment against Kriarj before the EOW, the Court has directed the EOW  to file their report on
22nd May, 2018 which will assist the Court in deciding the reliefs sought in the
Application/s filed by Gothic Entertainment and others against KriArj.
The Court has directed that Ms.Prerana Arora, Ms.Protima Arora and Mr.Arjun Kapoor, of KriArj Entertainment Pvt. Ltd. cannot leave the country without seeking prior permission of the Court.
KriArj Entertainment issued a statement that it had opted out of the project. "Parmanu is a project that was very close to our hearts. It is a film that portrays the story of India's nuclear test like never before. KriArj Entertainment has ensured that the project was completed within timeline and the quality of the content is something that we shall always be proud of. However, owing to inevitable reasons beyond our control and consistent improbabilities, KriArj Entertainment has decided to move out of the project. There are certain business decisions that simply need to be taken dispassionately and this was one of them," KriArj Entertainment said in the statement.
"As we move out, we wish JA Entertainment, Pooja Entertainment, Zee Studios and other stakeholders well and hope the film can truly achieve the heights that we, at KriArj, feel it deserves. We understand that there has been news reports purporting to KriArj's exit and this press release wishes to put to rest all figments regarding the company's continuance in the industry, as well as its exit from Parmanu," added the statement.
Lead actor John Abraham's JA Entertainment also issued a statement saying: "We are extremely thankful to the Hon'ble Bombay high court for the speedy resolution of various issues at hand, thus, paving the way for our film's release. We would like to make no further comment and focus all our energies on the release of the film now."
Earlier this week, Justice Kathawalla had in his order dated May 4, 2018 observed that he is prima facie satisfied that Respondents 2 to 4 i.e. Prernaa Arora, her mother Protima Arora and Arjun N Kapoor, have cheated not only Gothic Entertainment but also Guy in the Sky Pictures Private Limited, J.A. Entertainment Private Limited, Pooja Entertainment and Films Limited, Pooja Film Company, Padma Ispat Private Limited, SPE Films Private Limited and others. Further that Kriarj and these Respondents 2 to 4 have also prevented the Court from passing any orders by representing to JA Entertainment that they are willing to settle the matter and in fact purportedly settled the matter by signing the consent minutes of order dated 20th April, 2018 and thereafter committed breach of the undertakings given to the Court. The Court further observed that not a single term which was agreed in the Consent Terms was complied by Kriarj. The Court had directed the Deputy Commissioner of Police, Khar Station to appear before the Court and inform what steps are taken in response to the complaint dated April 26, 2018 filed by Guy in the Sky Pictures Private Limited. [Read order here]
As per reports, producer Prernaa Arora, her mother and KriArj Entertainment's director Protima Arora and Arjun N Kapoor were present for the hearing along with legal representatives from nearly all parties involved on May 7, 2018 when the matter was last listed. The matter of KriArj Entertainment V/s JA Entertainment was heard on priority in view of the film being scheduled for release on May 25, 2018. Five other cases were to be heard by Justice Kathawalla involving KriArj Entertainment (Gothic Entertainment V/s KriArj Entertainment, Padma Ispat V/s KriArj Entertainment, Padma Ispat V/s KriArj Entertainment & 3 others and Guy in The Sky Productions, Gothic Entertainment V/s KriArj Entertainment & 14 others & Guy in The Sky Productions and Padma Ispat V/s KriArj Entertainment & 3 others).
In view of the release of the film being scheduled for May 25, the Court has decided to speed up the case and has asked the parties involved to either find a solution agreeable to all parties before May 10 or the court will intervene on the terms of release and the cost of P&A (Prints and Advertising) among other things.
One of the suggestions that Justice Kathawalla made on Monday was that after 'Parmanu' releases, the court will sort out the monetary distribution of the film's earnings — i.e. which production house will recoup their funds first and in what proportion.
As covered in my post here, Kriarj and JA Entertainment were earlier in a dispute when JA Entertainment terminated its agreement with Kriarj over alleged non-payment of dues. Kriarj had filed a suit before the Bombay High Court seeking declaration that Kriarj is the owner of 50% of the IPR in the film and 100% of its exploitation right as well as seeking permanent injunction restraining JA Entertainment from exploiting the copyright in the film without Kriarj's consent. The matter was eventually settled by the Parties which was recorded in the consent order dated April 20, 2018. Reportedly, Kriarj had agreed to clear dues of Rs 5.65 crore to JA Entertainment, in two parts — one payment each was due on April 27 and 29. However, Kriarj defaulted in honouring the consent terms.
Several other matters were filed by other parties claiming rights over the film 'Parmanu'. In one such arbitration petition filed by Gothic Entertainment against Kriarj and 15 other parties, Gothic has alleged that it had entered into a film investment agreement dated Feb 27, 2017 with Kriarj for the film 'Padman' for INR 10 crores and another agreement dated May 10, 2017 for 'Parmanu' for INR 5 crores and some further amounts subsequently were paid by Gothic. A total of INR 17.15 crores was due to be paid by Kriarj to Gothic which Kriarj defaulted. At the time of filing the arbitration petition the amount claimed is INR 18,32,58,327/-. Gothic is claiming to have first charge and lien on various films produced by Kriarj including 'Parmanu'. Gothic has sought in its prayers that until final disposal of the arbitration proceedings, the amount of INR 18,32,58,327/- be either deposited in the court, or bank guarantee be given by Respondent 1 to 4. Further, an injunction be passed on these four respondents from transferring or selling their assets and moneys, rights in certain films, etc.
Image source: here