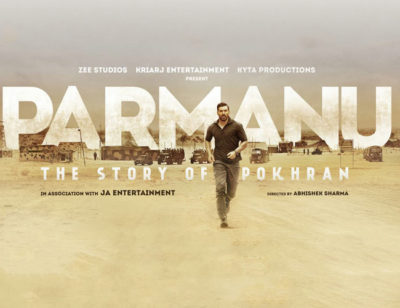 Kriarj Entertainment Private Limited today filed a suit before the Bombay High Court against John Abraham's JA Entertainment Pvt. Ltd [NMCD/841/2018]. The matter is listed on Monday i.e. April 9, 2018 for hearing.
The suit has been filed seeking declaration that Kriarj is the owner of 50% of the IPR in the film and 100% of its exploitation right as well as seeking permanent injunction restraining JA Entertainment from exploiting the copyright in the film without Kriarj's consent. The Plaintiff has further sought for damages and other ancillary reliefs.
The dispute between the parties arose when JA Entertainment terminated its contract with Kriarj alleging Kriarj of having committed default of payments under the contract and further stating that Kriarj was not entitled to any right, title or interest in the film.
As per Kriarj, under its contract with JA Entertainment, Kriarj was entitled to 50% of the IPR in the Film and 100% of exploitation rights in the film and these rights vested with Kriarj. Therefore, there was no question of termination of the contract or of Kriarj ceasing to be the owner of the IPR in the film by virtue of such alleged termination.
Kriarj has also alleged that JA Entertainment has dishonestly represented to third parties that Kriarj has no rights in the film, with the deliberate and mala fide intention of defeating Kriarj's valuable rights in the film.
Kriarj Entertainment has claimed that the teaser of Parmanu, released by JA Entertainment on April 5, 2018 did not indicate the name of Kriarj as a producer of the Film and no confirmation was sought by JA Entertainment. Further that JA Entertainmet has not complied with its delivery obligations under the contract.
Kriarj thus alleges that JA Entertainment has dishonestly proceeded on the basis that the contract between them is terminable and further by issuing public notices has sought to create a perception in the minds of the public that Kriarj is not the owner of the IPR in the film, thereby depriving it of its valuable rights.
Earlier this week, the Khar Police Station in Mumbai had registered an FIR against John Abrahm and his entity on a complaint filed by Prerna Arora of Kriarj. Details of the same can be read in my post here.
Image source: here