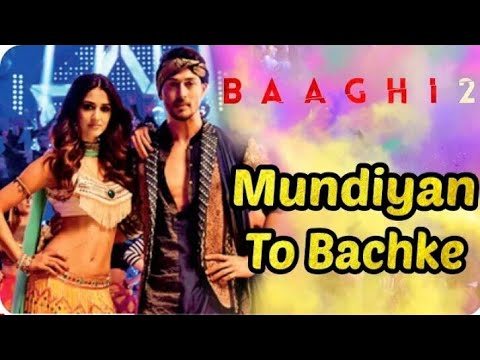 Writer-lyricist Charanjit Singh Maakar, known in Punjabi folk circles as Channi Khannewala, has sent a copyright infringement notice to Nadiadwala Grandson Entertainment Pvt Ltd, music label Super Cassettes, director Ahmed Khan, lyricist Ginni Diwan, music director Sandeep Shirodkar, singers Navraj Hans, Palak Muchhal , actor Tiger Shroff & others alleging copyright infringement of the 1996 hit song 'Mundian to Bach Ke Rahin' written by Channi and sung by Labh Janjua. The song was released in 1996 by the music label MC Punjabi and in 2002 it had become a worldwide sensation as British-Punjabi singer Rajinder Singh Rai's bhangra remix for the same label. As per reports, that's when Channi and Labh decided to safeguard their rights and notarised the track on October 23, 2002, whereby it could not be reused, recreated, filmed or composed in any other language without their written permission.
As per reports Channi has also reached out to IPRS (which has been paying him royalties for every time his song is used, for 16 years now ) and the CBFC chief Prasoon Joshi.
The press reports mention that a suit has been filed by Channi against the Baaghi 2 makers for altering the lyrics and that damages to the tune of INR 5 crores has been demanded for Indian and international territories and for removal of the song from audio-video promotions of the film. However, as per my sources, only legal notice has been sent to the concerned parties and suit is not yet filed.
As per reports, T-Series claims to have acquired the rights from Sony Music.
As per reports, in 2003, the film 'Boom' had featured a similar remix and Channi had challenged the makers of that film post which the song was dropped from the film.
Its difficult to comment on the merits of this dispute without having all the facts in hand. In all likelihood with reputed producers and music labels being involved in this issue, due diligence of rights would have been conducted by the parties. However as was seen in the Baadshaaho matter for the song 'Keh Do Tumhe' [ Trimurti Films Pvt. Ltd vs Super Cassettes Industries Pvt. Ltd- read order here] , where the Bombay High Court had injuncted the defendants from releasing the film Baadshaho with the song 'Keh Doon Tumhe' on the ground that Universal Music which had originally acquired the rights from the producer and subsequently sold it to Baadshaho makers only had sound recording mechanical reproduction rights and not the underlying rights. In the appeal filed by Super Cassettes and others against the single bench order, the division bench had upheld the single bench order and dismissed the appeal [ Read appeal order here].
To an untrained ear, both these songs seem to be substantially similar [ Baaghi song- link– , Labh Juneja – song link  ]. Also, as per the credits given by T Series in the Youtube link , credits seem to have been given to the original singer and composers-
"Original Music – Panjabi MC
Original Singer: Labh Janjua
©  UPMG & Sony ATV
Authors of lyrical work in original song – Rajinder Rai
Authors of musical work in original song – Stuart Phillips, Glenn Larson, Rajinder Rai"
 It therefore appears to be a case of overlap of certain rights.
Some of the other cases on song/ underlying works copyright infringement:
Image source: here