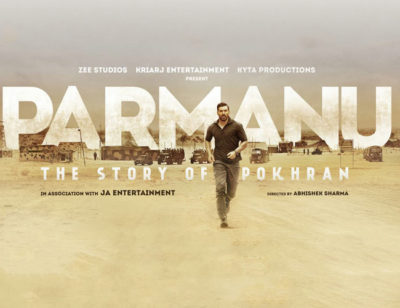 The legal woes for Parmanu do not seem to be ending. As per reports, another production house, Gothic Entertainment, has sent a notice to Essel Vision (Zee) and Kriarj Entertainment and copied to JA Entertainment and Vashu Bhagnani's Pooja Entertainment, staking its claim over rights of Parmanu. Gothic Entertainment claims to have paid Kriarj Entertainment a large a large sum of money towards production of multiple films being made under its banner.
"The notice has been sent by a Delhi-based law firm on behalf of Gothic Entertainment. It says that the company paid Prernaa's company a sum of Rs 12.25 crore towards production of multiple films, one of them being Parmanu. This comes as a complete shocker to all concerned, as this fact had not been revealed during the court hearings so far," says a source working on the film.
With respect to the suit pending before the Bombay High Court which has been filed by Kriarj Entertainment against JA Entertainment, as per reports, when the matter was listed before the Bombay High Court this week, Justice Kathawalla has pointed out that Kriarj has legal and valid rights in the film 'Parmanu' that couldn't be taken away. The two parties were also believed to have been advised to resolve their differences amicably and make way for the movie's release.
As reported here, the suit was filed by Kriarj seeking declaration that Kriarj is the owner of 50% of the IPR in the film and 100% of its exploitation rights, as well as seeking permanent injunction restraining JA Entertainment from exploiting the copyright in the film without Kriarj's consent. Kriarj further sought for damages and other ancillary reliefs. The dispute between the parties arose when JA Entertainment terminated its contract with Kriarj alleging Kriarj of having committed default of payments under the contract and further stating that Kriarj was not entitled to any right, title or interest in the film.
While the parties have not given any official statement since the settlement terms are being finalized, reportedly, Kriarj would pay the balance amount due to JA Entertainment, which would carry out the marketing and publicity for INR 10 crores.
Earlier this month, Prerna Arora of Kriarj Entertainment had also filed a criminal complaint against John Abraham and his company before the Khar Police Station in Mumbai.
Amidst these legal disputes the release of the film is likely to be delayed further.
Image source: here