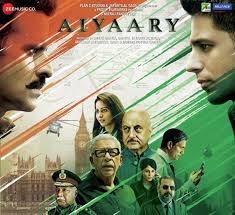 The Supreme Court on Feb 16, 2018 disposed of a petition filed by Adarsh Cooperative Housing Society Limited seeking ban on the release of the film 'Aiyaary'. [WP(C) 129/ 2018]. Read Judgement here.
Adarsh Society had filed a plea that the film was projecting it and its member in bad light while referring to Adarsh scam.
As per reports, a bench of Chief Justice Dipak Misra and Sanjay Kishan Kaul said the criminal cases are decided on the basis of evidence and documents placed on record and the court does not get influenced by theatrical language and celluloid image while adjudicating a case.
The apex court said that there was basis of the apprehension expressed by the society and the court could not restrict the artistic freedom of filmmakers which is one of the most cherished right under the constitution.
The bench also noted that the film was cleared by CBFC after consultation with Army authorities and the court could not interfere in the functioning of a statutory body and refused to entertain the plea of the housing society.
Edit: The bench further refused the petitioner's request for a disclaimer to be added to the film and observed "Whether there is the necessity of "disclaimer" or not has to be decided by the Censor Board which is the statutory authority that grants the certificate. In fact, when a disclaimer is sought to be added, the principle of natural justice is also attracted. To elaborate, the producer or director is to be afforded an opportunity of hearing. The Court should not add
any disclaimer for the asking. Addition of a disclaimer is a different concept altogether. It is within the domain of the authority to grant certificate and to ask the director to add a disclaimer in the beginning of the movie to avoid any kind of infraction of guidelines. Though the suggestion is made in right earnest by Mr. Sanjay Hegde, yet we are impelled not to accept the same." 
Image source: here