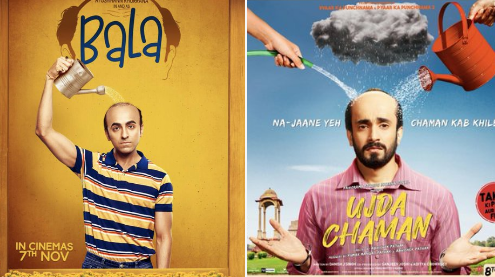 Producers of the film 'Ujda Chaman' have moved the Bombay High Court against the producers of the film 'Bala' alleging infringement of copyright of their film. The two films are both featuring a bald protagonist and have similar story lines attached to them.
The Plaintiff's film is an official remake of the 2017 Kannada film 'Ondu Motteya'. Bala' is scheduled to be released on 7th November, while 'Ujda Chaman' on 8th November.
The matter was heard before Justice A.K. Menon on 18th October, wherein the Court directed the plaintiff to deposit a copy of the film 'Ujda Chaman' with the court. The parties also agreed that the plaintiff's representative would be permitted to view the defendant's film on 19th October. The matter is next listed to be heard on October 22, 2019. Read order here.
It would be interesting to see how this case progresses. The Plaintiff has the advantage of having acquired the remake rights of the original Kannada film. However, it is a settled position that no copyright subsists in an idea. Therefore if only the theme of the film is common (having a bald protagonist and some obvious scenes around such theme (scenes a affaire)) with an entirely different treatment of the story, the defendants would have an arguable case.
While the makers of Bala have not yet sorted out this dispute, another controversy has embroiled in relation to the recreated version of the song 'Don't be Shy'. Music composer-singer Dr Zeus took to Twitter to slam Bala makers along with Badshah and Sachin Jigar (who are credited for Don't Be Shy in Bala) for plagiarising his songs.
Image source: here