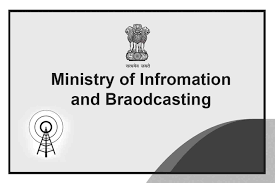 The I& B Ministry has issued a notice to 121 permitted private satellite television channels for not providing monitoring facilities/Technical Parameters to Electronic Media Monitoring Centre (EMMC) for the purpose of monitoring the content.
The notice reads "In this regard, attention is invited to clause 5.5 of the extant Uplinking Guidelines which provides that the company/channel shall provide for the necessary monitoring facility, at its own cost, for monitoring of programmes or content by the representatives of the Ministry of Information & Broadcasting or any other Government agency as and when so required.
 Accordingly, all the concerned Broadcaster companies are required to provide complete set of monitoring facilities/Technical Parameters (i.e. professional IRD, Cam Module etc.) in respect of their permitted TV channel(s) to EMMC for the monitoring purpose by 30th May, 2018 positively, failing which action shall be initiated in accordance with these Guidelines."
Electronic Media Monitoring Centre (EMMC) is a subordinate office under the Indian Ministry of Information and Broadcasting tasked to monitor content of television channels and report on violations of the programme and advertising code.
Image source: here