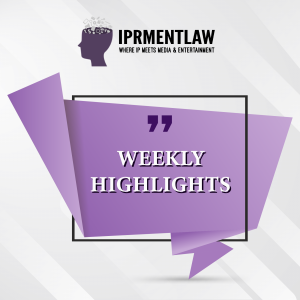 Cinefil Producers Performance Limited receives registration as a Copyright Society for Cinematograph Films
Cinefil Producers Performance Limited ("CPPL") has received registration as a Copyright Society under Section 33(3) of the Copyright Act, 1957 in respect of cinematograph films. CPPL had applied to the Registrar of Copyright for registration as a copyright society vide application dated 14th November 2018. The Copyright Office, on 22nd November 2018 had issued a public notice inviting attention to the same. Read our post here for further details.
Cabinet approves Cinematograph (Amendment) Bill, 2023
The Union Cabinet passed the Cinematograph (Amendment) Bill, 2023 which offers more categories for film certification as well as stronger criminal provisions to combat film piracy. The Bill will be introduced in Parliament during the forthcoming session. The Bill's objective is to ensure that material is not harmed by piracy and to protect the interests and investments of producers and filmmakers.
Delhi High Court restrains Youtube Channels from publishing fake content on health of Aaradhya Bachchan
The Delhi High Court barred several YouTube channels from distributing, publishing, or posting films or misleading content about Aaradhya Bachchan, the daughter of Bollywood celebrities Abhishek Bachchan and Aishwarya Rai Bachchan. The Court observed that in law, the broadcast of false information about a child's health, particularly his or her physical and mental health, is entirely unacceptable.
The court also stated that it has "zero tolerance" in cases when deceptive content relating to a child's physical well-being is published on such sites. The court issued notice in Aaradhya Bachchan's claim, which she filed through her father, seeking a permanent injunction against numerous YouTube channels that published videos and "fake news" allegations about her health.
Read order here.
Delhi High Court seeks Union Government's response on steps taken to regulate Content on Social Media and OTT Platforms
The Delhi High Court has asked the Union of India for a response on the actions it has taken to regulate content on social media and OTT platforms. Justice Swarana Kanta Sharma issued the order in response to a recent ruling in which the judge stated that the use of obscene language in the public domain and on social media platforms are accessible to children of all ages, they must be taken seriously.
The court had stated, while seeking the Union Government's position on the steps taken in the matter, that the subject of passing proper legislation or developing guidelines to control content on social media and OTT platforms need immediate consideration.
Delhi High Court Imposes costs for blatantly infringing Louis Vuitton trademarks
The Delhi High Court assessed costs of almost Rs. 9.5 lakhs on three individuals for flagrantly infringing Louis Vuitton's trademarks and failing to appear in court in the French luxury company's trademark infringement complaint. The court was considering a lawsuit filed by Louis Vuitton Malletier alleging trademark infringement by three individuals who were making and selling goods bearing "Louis Vuitton" trademarks.
Kerala High Court stays District Court's order restraining Hombale Films from using the song 'Varahroopam'
The Kerala High Court stayed a local court's judgement prohibiting the creators of the Kannada film 'Kantara' from showing the song 'Varaha Roopam' in theatres and on streaming sites. The lower court passed an order restraining Hombale Films from using the song 'Varahroopam'. Hombale Films filed an appeal before the Kerala High Court, challenging the order. While issuing notice, Justice Kauser Edappagath ruled that the impugned order be stayed till the next date of hearing.
Tariff Rules remain unchanged for OTTs,  TV Apps
The information and broadcasting (I&B) ministry has notified the Telecom Regulatory Authority of India (Trai) that no tariff regulation is required for broadcast apps, which include OTTs such as Netflix and Amazon Prime Video, as well as live TV channels when carried on OTTs. This implies that broadcasters such as Sony, Zee, and Star can continue to stream their live TV channels on their OTT apps for free. Even telecom carriers can choose to broadcast such live TV channels on their applications for free.