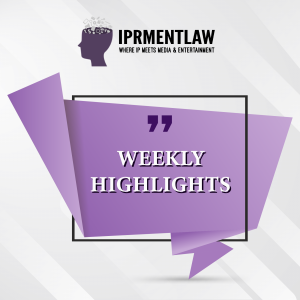 The Delhi High Court has denied the Sci-Hub owner's application to dismiss the copyright infringement case
Sci-Hub is a library website that offers free research paper access. Several publishing houses have sued Sci-Hub and another similar website, Lib-Gen, for copyright infringement. The Delhi High Court dismissed an application by Alexandra Elbakyan, the owner of the website Sci-Hub, to dismiss a lawsuit filed by publishing houses Elsevier, Wiley, and the American Chemical Society alleging copyright infringement and online piracy.
Union Minister for Communication and IT, Ashwini Vaishnaw says that IT panel has given a thumbs-up to the Data Protection Bill
The parliamentary standing committee on communications and information technology (IT) has given the Digital Personal Data Protection (DPDP) Bill, 2022 a "big thumbs up," and it will be tabled in Parliament soon, according to Union Minister for Communications and IT Ashwini Vaishnaw.
The Bill, which seeks to enforce citizens' fundamental right to privacy, includes penalties of up to Rs 250 crore for data fiduciaries who fail to implement safeguards to prevent personal data breaches. It also requires fiduciaries to obtain the user's explicit and informed consent before collecting any personal data.
Bhuban Badyakar, singer of the song Kacha Badam files complaint alleging copyright infringement
Bhuban Badyakar, a West Bengal street vendor who became famous overnight after his Kacha Badam song went viral on social media, has claimed copyright infringement. The song's remixed versions not only rocked the country, but also crossed borders, with people all over the world making reels and dancing to the song.
The singer claimed that a Birbhum-based company and its owner stole his song by impersonating representatives of the Indian Performing Rights Society Ltd. (IPRS). Bhuban stated that because he was illiterate and did not know how to write or read, he did not understand the agreement on which he had placed his thumb impression. He claimed that he had no idea he was signing a copyright transfer document. Bhuban has filed a case against the individuals who have stolen the copyright to his Kacha Badam song in the hopes of resolving the issue.
Gujarat High Court seeks TRAI's response on Cable Operators' Plea against increased channel pricing
The Gujarat High Court issued a notice to the Telecom Regulatory Authority of India (TRAI) on 1st March 2023 in response to a writ petition filed by the Cable Operator Association of Gujarat challenging the new Tariff Orders, which increased channel prices from Rs. 12 to Rs. 19 for inclusion in bouquets offered to cable subscribers.
Citing the alleged exponential increase, the petitioner challenged the Telecommunication (Broadcasting and Cable) Services Interconnection (Addressable Systems) (Fourth Amendment) Regulations, 2022 [Regulations Amendment,2022] and Telecommunication (Broadcasting and Cable) Services (Eighth) (Addressable Systems) Tariff (Third Amendment) Order, 2022 [Tariff Amendment].
A similar petition is also pending before the Hon'ble High Court of Kerala. The parties therein reached an interim arrangement and the matter will be decided soon by the Hon'ble High Court.
News broadcasters are requesting an exemption from the advisory on national interest content
Even as the advisory on mandatory national interest content for television channels became effective on March 1 as part of the new 'policy guidelines for uplinking and downlinking of television channels-2022,' a disagreement appears to be developing between TV news channels and the government on the issue.
The government stated in a detailed advisory issued on January 30 by the I&B Ministry that national interest content, lasting at least 30 minutes at a time, can be embedded in the programmes being telecast. They are now required to keep a 90-day record of the content telecast. The record will be kept by the I&B Ministry's Electronic Media Monitoring Centre. The government has also requested that they submit a monthly report to the Broadcast Seva Portal.
The news channels have written to the Ministry of Information and Broadcasting, requesting an exemption on the grounds that they are "already producing and airing news programming that is in accordance with the guidelines" and should be exempted from additional compliance-related paperwork, which must be filed monthly.
CBFC has to be convinced first on smoking scene in a movie
Filmmakers will have to convince the Central Board of Film Certification (CBFC) of the need for a smoking scene under proposed changes to movie making rules. Even after justification and approval, filmmakers must include tobacco warnings in that scene. Furthermore, according to a government official familiar with the situation, none of the movie's billboards outside cinemas may depict smoking.