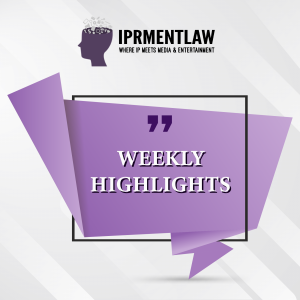 DJ Union alleges Rs 2500 crore fraud by PPL, Novex and IPRS, calls for investigation
The All India Light and DJ Association have lodged a complaint with the Chandigarh Police against Phonographic Performance Limited (PPL), Novex Communications, and Indian Performing Rights Society (IPRS) for making illegal collections. The complaint states that PPL, Novex and IPRS were appointed under the Copyright Act in 1994 to conduct the business of DJs and lights with licenses. However, their agreements with the government has ended in 2012 but they have continued making substantial collections from people across the country in the name of licenses As per the complaint, PPL faces allegations of Rs 1000 crore, Novex Communications Rs 1000 crore, and IPRS Rs 500 crore. This was revealed in a response to an RTI inquiry from the Revenue Department of the Government of India.
Read more about it here.
Process guidelines to make films disabled friendly: Delhi HC
The Delhi High Court on Thursday asked the Centre to put in public domain the draft guidelines for making the experience of watching films friendly for those with disabilities like hearing and visual impairment, and process them for due approval upon receiving comments from stakeholders.
The court sought a status report from the central government after it was informed the draft guidelines are under consideration and the process of finalisation will take some time.
"Let Ministry of Information and Broadcasting first publish the draft guidelines and after receiving stakeholder comments, process the guidelines for approval of ministry concerned. Let status report be filed on record," ordered Justice Prathiba M Singh during a hearing held in the presence of sign language interpreters for hearing-impaired persons.
Read more about it here.
IAMAI seeks 2-year extension to comply with DPDA Act
The Internet and Mobile Association of India (IAMAI), which represents over 550 Indian and multinational tech companies, has urged the government to provide a two-year extension for complying with certain provisions of the Digital Personal Data Protection (DPDP) Act. IAMAI's request is in line with other industry bodies which have maintained that several provisions of the Act would require technical, product, policy and process-level changes, and that they would require ample time to make these changes and make them DPDP-compliant.
FIR registered against Sanjay Dutt, Badshah and others for promoting viewing of IPL matches on an online betting app
As per a report published in India Today, FIR has been registered against Badshah, Sanjay Dutt and 40 others by the Viacom 18 Network. The report has been registered on the grounds of allegedly promoting the viewing of Indian Premier League (IPL) matches on an online betting app. As per the report, the media company claimed that they have the rights to stream the matches. However, these matches were being streamed on the betting app illegally and several actors were promoting the tournament on the application.
Read more about it here.
I&B has appointed nodal officers empowered to block any app or site for piracy
In a bid to curb film piracy, the government on Friday said it has appointed 08 (eight) nodal officers who have been authorised to direct the blocking or taking down of any website, app or weblink carrying pirated film content. As per media reports, the officers are Prithul Kumar, Joint secretary (films) at MIB, Armstrong Pame, Director (films)/deputy secretary (films), Ravinder Bhakar, the CEO of CBFC, and regional officers of CBFC from Delhi, Mumbai, Bengaluru, Chennai and Cuttack. They are now empowered to take direct action for the first time by the amended Cinematograph Act, which also imposes higher fines and prison terms on those involved in piracy.
Read more about it here.
Delhi HC restrains Fiem Industries from using Lumax's confidential information
The Delhi High Court has issued a restraining order against Fiem Industries, preventing them from utilizing confidential and proprietary information, data, and trade secrets belonging to their rival company, Lumax Industries. Lumax Industries had alleged that its former employees, who are now working for Fiem, unlawfully acquired email addresses of independent directors, joint venture partners, customers, suppliers, and channel partners, which led to the legal action and the issuance of this restraining order.
Read more about it here.
Karnataka High Court: Sting operations by media must be 'healthy'
Justice M. Nagaprasanna while passing the order on petitions questioning the legality of corruption cases registered against 20 police officers and personnel of the Bengaluru City Traffic police wing, and 13 officers and staff of the Commercial Tax Department in various districts stated that sting operations by the media should be "heathy" by adhering to norms and that all such operations in the future should be as per the guidelines issued by the News Broadcasting & Digital Standards Authority (NBDSA) and the Press Council of India. In case of television channels, the court said the operations should be in strict consonance with the provisions of the Cable Television Networks (Regulation) Act, 1995, the rules, and the NBDSA guidelines.
The Court was hearing a case based on two sting operations by two private news channels on acceptance of bribes by the officers during 2021-2022
Read more about it here.
Government to constitute a panel of ministers to supervise the regulation of online gaming
As per an article on ET, the government is considering establishing a Group of Ministers (GoM) to examine the regulatory framework for the gaming industry in India. The GoM will likely include home minister Amit Shah, finance minister Nirmala Sitharaman, IT minister Ashwini Vaishnaw, Information and broadcasting minister Anurag Thakur as members and they will be assisted by senior officials from the department of revenue, income tax and Department for Promotion of Industry and Internal Trade (DPIIT) among others.
Read more about it here.
META embroiled in trademark battle for 'Threads'
Threads Software Limited, the developer behind the innovative cloud-based intelligent hub, 'Threads' has sent a strong warning notice to Meta over the use of the name 'Threads' for its social media site, as per reports. The British Firm has declared its intent to pursue legal action through courts if META continues to use the name 'Threads' beyond a 30- day grace period. They have claimed that META was aware of Threads existence before launching its own platform with the same name and had even made 04 offers to acquire the domain 'threads.app' from them starting in April 2023, all of which were declined.
Read more about it here.