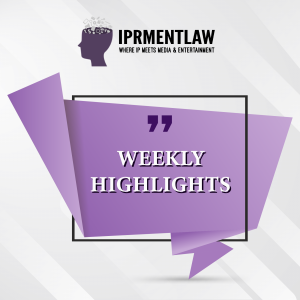 Delhi High Court says that there can be no copyright in religious scriptures but dramatic or adaptive works based on them can be copyrighted
The Delhi High Court has ruled that, while no one can claim copyright in scriptures such as the Bhagavad Gita or the Bhagavatam, any interpretation, adaptation, or dramatic work based on these would be protected by copyright. Justice Prathiba M Singh said that there is no issue to the literal copying of the text of the Bhagavad Gita or other spiritual texts, but copyright law would apply to how they are interpreted by various Gurus and spiritual teachers. The Court delivered these remarks while hearing a copyright infringement claim filed by Bhaktivedanta Book Trust.
Read order here
Delhi High refused to restrain use of song Jalsa in the movie Mission Raniganj
The Delhi High Court on Monday rejected to issue an interim injunction prohibiting the use of singer Satinder Pal Singh Sartaaj's song Jalsa in the upcoming film 'Mission Raniganj,' after Sartaaj's agreement to deposit Rs. 25 lakh with the Court. The order was passed in a suit brought by Saga Music Private Limited, which sought a permanent injunction barring Sartaaj and others from utilizing the song in the Akshay Kumar film.
The Court also stated that the litigation underlined the "precarious position" that artists, film producers, music rights management corporations, and others are in as a result of the execution of various agreements in respect of the same work. During the hearing, the Court also stated orally that the law is too complicated for an ordinary singer to understand.
Read order here.
Delhi High Court grants an injunction for real-time blocking of websites illegally streaming Cricket World Cup 2023
Star India, which has the exclusive global media rights to the ICC World Cup 2023, has moved the Delhi High Court seeking blocking of websites in real time while the cricket matches are taking place. The Delhi High Court has issued an injunction order requiring the immediate shutdown of websites that may attempt to illegally broadcast cricket matches from the upcoming ICC Men's Cricket World Cup 2023.
Justice Prathiba M Singh observed that World Cup matches are immensely popular in the Indian subcontinent, and any delay in removing such rogue websites would result in financial losses for Star India Private Limited and its associate internet platforms such as Hotstar.
Read order here.
Delhi High Court orders blocking of Telegram channels and deactivation of WhatsApp numbers which were illegally sharing course materials of Apna College platform
The Delhi High Court has barred several companies from disseminating or sharing course materials from the online education platform "Apna College" through WhatsApp groups, Telegram channels, and YouTube channels.
Read order here.
Delhi High Court clarifies and finalizes settlement terms in trademark suit between Theos and Theobroma
The Delhi High Court recently issued clarifications, thereby completing the settlement conditions in the trademark infringement litigation between Theos and Theobroma. Justice Prathiba M Singh issued the clarifications after both parties informed the Court that they were unable to achieve an agreement in accordance with the Court's earlier July 29, 2022 order.
Read order here.
Madras High Court grants an injunction in favour of Sangeetha Hotels
The Madras High Court has granted an ad-interim injunction in favor of the Sangeetha Hotel chain, preventing its former franchisee from using marks such as 'GEETHAM', 'GEETHAM VEG', 'SANGEETHAM', or other GEETHAM or SANGEETHA formative marks, or similar marks.
Central Government says that IT Rules amendment is to control fake news, not to target satire against government
The Central government informed the Bombay High Court on Tuesday during the hearing of petitions challenging amendments to the Information Technology Rules of 2023 that humour or satire against any administration is always welcome as long as it is not abusive or involves obscenity. Solicitor General Tushar Mehta, arguing on behalf of the Ministry of Electronics and Information Technology (MeitY), stated that the guidelines do not ban expressing one's viewpoint or critical analysis of the government, but are simply meant to limit false news.
Ministry of Information and Broadcasting issues notification amending the Cable Television Network Rules, 1994
The Ministry of Information and Broadcasting released a notification amending the Cable Television Network Rules, 1994, establishing a system for renewing Multi-System Operator (MSO) Registrations. Furthermore, an enabling clause has been added to the rules to allow Cable Operators to share infrastructure with Broadband Service Providers in order to enhance internet penetration to the last mile.
The revised Rules for MSO Registration require MSOs to apply for registration or renewal of registration online through the MIB Broadcast Seva Portal. MSO registrations are given or renewed for a ten-year period. The renewal of registration requires a processing fee of Rs One lakh, and the application must be submitted between seven to two months of the registration's expiration date.