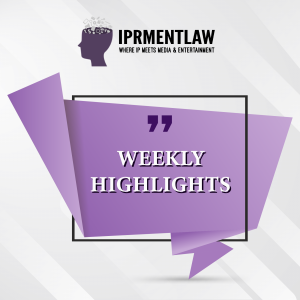 TDSAT sends notice to Disney Star for streaming cricket matches for free on Disney+ Hotstar
All India Digital Cable Federation filed a petition before the Telecom Disputes and Settlement Appellate Tribunal against Disney Star for streaming cricket matches, recently Asia Cup, for free on its platform, Disney+ Hotstar. The petitioner alleged that this practice is unfair to the cable industry, which has paid the broadcaster for distributing and transmitting signals. The TDSAT has now issued notice to Disney Star.
Supreme Court: Self Regulation of news channels needs to be strengthened
A bench of Chief Justice of India DY Chandrachud and Justices JB Pardiwala and Manoj Misra observed that the apex court wants to ensure that the self-regulatory mechanism for for monitory television news channels is strengthened. The Court has News Broadcasters and Digital Association to come up with a revised set of self-regulatory guidelines.
Delhi High Court issues summons in the copyright infringement suit filed by Humans of Bombay against an online portal People of India
The storytelling platform, Humans of Bombay, has filed an action for copyright infringement against the online portal, People of India, alleging copying of logo, tagline and format of stories.
The twist in the tale is the post put of by the founder of Humans of New York, Brandon Stanton, the page which has allegedly inspired Humans of Bombay. Stanton has written on X (formerly, Twitter) that Humans of Bombay have appropriated his content and idea of Humans of New York and are now going against People of India for something similar. Humans of Bombay responded to Stanton through an official statement.
Read order here.
OTT services not to be construed same as tele services
The Department of Telecommunications has decided against categorising OTT services as telecommunications and thus, has removed them from the upcoming Telecom Bill.
The development comes in light of TRAI's prior recommendation to impose regulations on OTT communication apps. TRAI had also suggested to selectively ban certain OTT services.
Delhi High Court passes an omnibus order for Anil Kapoor to prevent misuse of his personal attributes by AI
After Rajnikanth and Amitabh Bachchan, Anil Kapoor has now obtained an omnibus order from the Delhi High Court against the use of image, voice and dialogue of the actor generated by technological tools.
The plea filed by the actor raised concerns over use of his voice, dialogues being used by artificial intelligence causing prejudice to his hard earned reputation and goodwill. The order restrains social media channels, e-commerce websites and people at large from infringing on the personality and publicity rights of the actor.
Read order here.
No relief for PepsiCo against Parle's use of the tagline "For the Bold"
Delhi High Court refused to restrain Parle Agro from using the tagline "For the Bold" as part of its labels of the B Fizz bottles. PepsiCo argued that its registration over the tagline and has been using the same internationally since 2013, and in India since 2015 for its Dorito tortilla chips.
Parle argued that the registration of the tagline was in itself invalid as the tagline is merely descriptive and does not denote the trade origin of the goods. While the court had not restrained Parle from using the tagline on its label, however, Parle has been restrained from using the tagline as a predominant part of its advertising campaign.
Read order here.
Bombay High Court: No copyrightable theme over families visiting ancestral village during Ganpati festival
Bombay High Court recently held that there can be no copyright on the subject of 'family going to their native village in Konkan during Ganapati festival'. The holding comes in light of the suit filed by Navigan Studios Pvt Ltd against the web series 'Devak Khari' claiming copyright infringement.
The web series dealt with the idea that of family members visiting their native village Konkan during the Ganeshotsav. The Court rejected the said idea to be copyrightable for being a common practice in Maharashtra.
Delhi High Court grants dynamic injunction to Viacom18 against cricket matches piracy
Delhi High Court passed an order granting dynamic injunction to Viacom18 for the Indian Cricket Team's bilateral matches, towards protecting its five year broadcast and streaming rights from infringement.
The Court while passing the order reflected upon the menace of piracy and how the Courts have become inundated with such suits and highlighted the importance of a robust anti-piracy policies to curb such issues.
Read order here.
CBFC removes reference to Donald Trump from the upcoming franchise Fukrey 3
The Central Board of Film Certification has asked to remove the scenes referring to former US President, Donald Trump. A source of CBFC has mentioned that names of politicians shall not be allowed to be used without seeking due permission from the concerned ministry. However, tweaked names can be used.
Delhi High Court orders for resumption of the news channel Lokshahi
The news Lokshahi had gone off air for 72 years after receiving a notice from the Ministry of Information and Broadcasting for telecasting story on an explicit video featuring BJP leader, Kirit Somaiya.
Bombay High Court Judge opined that hero cop movies like Singham give wrong message
Recently while speaking at a function organised by the Indian Police Foundation to mark its annual day and Police Reforms Day, Justice Gautam Patel opined that movies like Singham which show hero cops who deliver quick justice without following the due process sends out the wrong message.
George R.R. Martin and other authors sue ChatGPT for copyright infringement
The Authors Guild filed a suit against OpenAI in the Southern District of New York over allegations that the ChatGPT-maker trained its large language AI models on the works of authors like George R.R. Martin, the novelist behind the book "A Game of Thrones," and John Grisham without their consent. The lawsuit alleged that OpenAI's LLM's could endanger the ability of fiction writers to make a living.
Katy Perry sold her music catalogue for a record $225 million
The American singer-songwriter Katy Perry sold her music catalogue to Litmus Music for a whooping $225 million, breaking the record of Justin Bieber. The deal includes her stake in her master recordings and publishing rights for all five of her studio albums released through Capitol Records, from 2008's One of the Boys to 2020's Smile.