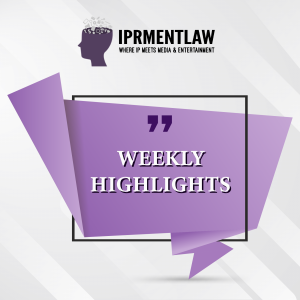 Supreme Court dismisses plea which challenged Delhi High Court's order restraining the use of 'Dil Afza' for sharbat
The Supreme Court refused to hear a petition filed by Sadar Laboratories Pvt Ltd challenging a Delhi High Court order prohibiting it from manufacturing and selling any product under the trademark "Dil Afza" until the trademark infringement suit filed by Hamdard National Foundation (India), which manufactures "Rooh Afza," was resolved. A court comprised of CJI DY Chandrachud, Justice PS Narasimha, and Justice JB Pardiwala heard the trademark dispute between Rooh Afza and Dil Afza.
Read order here.
Supreme Court seeks response of Delhi Police on plea to quash obscenity case on TVF
The Supreme Court requested the Delhi Police's answer to a petition filed by content creation company The Viral Fever (TVF) challenging the registration of criminal cases in connection with their online series, College Romance. A bench of Justices AS Bopanna and Hima Kohli also issued an order extending the appellants' earlier temporary protection from arrest and detention.
Read order here.
Supreme Court stays decision of West Bengal government to ban screening of The Kerala Story
The Supreme Court has stayed the decision of the West Bengal government to ban screening of the film, The Kerala Story in the state but directs to carry disclaimer that the film is a fictionalized version.
Read order here.
Delhi High Court permanently restrains Planet Media Group to use the mark 'Miss India'
The Delhi High Court has barred Planet Media Group from using the term "Miss India" in connection with beauty pageants organised and promoted under the marks "MISS INDIA WORLD" and "TAJ MISS INDIA/MISS INDIA TAJ." The bench of Justice Sanjeev Narula observed that Planet Media had been dishonestly exploiting "MISS INDIA"- the registered mark of Bennett, Coleman and Company- in the title of the beauty pageants organised by the former, including on its websites and social media accounts.
Delhi High Court refuses to injunct Wipro's advertisement from being broadcast
According to the Delhi High Court, comparative advertising includes the right to show the competitor's product, but denigration or insulting the rival's product is prohibited. While refusing to injunct the broadcast of a Wipro Enterprises Private Limited advertising for its product Santoor handwash, which Reckitt Benckiser Private Limited alleged was disparaging to its product Dettol handwash the Court observed that "While it is permissible, therefore, to state that the advertised product is superior to the competitor's, it is not permissible to attribute this superiority to some failing, or fault, in the product of the competitor. An advertisement cannot claim that a competitor's goods are bad, undesirable or inferior. The subtle distinction between claiming one's goods to be superior to the others', and the other's goods to be inferior to one's, has to be borne in mind".
Read order here.
Delhi High Court directs Twitter to provide details of accounts indulged in leaking clips of movie 'Jawan'
The Delhi High Court directed Twitter to furnish basic subscriber information and detail accounts involved in leaking clips from the upcoming film Jawan. Justice C Hari Shankar disposed of the application filed by Red Chillies Entertainments Private Limited in its suit against different pirate websites and other social media platforms seeking to prevent them from infringing its copyright in the film.
Read order here.
Karnataka High Court: Rummy is not gambling whether played with or without stakes
The Karnataka High Court has ruled that online/electronic/digital Rummy games and other online/electronic/digital games played on Gameskraft's platforms, the petitioner therein, are not taxable as "betting" and "gambling." The bench of Justice S.R. Krishna Kumar has ruled that online, electronic, and digital games, which are primarily and predominately games of skill rather than chance, are not gambling. The question was whether offline or online games like Rummy, which are primarily based on skill rather than chance and can be played with or without stakes, constituted "gambling or betting," as defined in Entry 6 of Schedule III of the Goods and Services Act, 2017.
Read order here.
Sachin Tendulkar files police complaint against "misleading advertisements" that impersonated his attributes in Mumbai
Sachin Tendulkar, the legendary former cricketer, filed a complaint with Mumbai Police against the "unauthorised" use of his name, photo, and voice in "misleading advertisements". The Mumbai Police Cyber Cell has filed a complaint against an unidentified person under Indian Penal Code (IPC) sections 426, 465, and 500. Sachin said in his complaint that the adverts were utilised illegally to deceive individuals into purchasing products and services online.