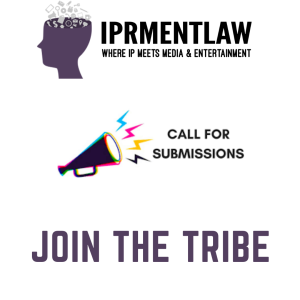 "The most important thing in writing is to have written. I can always fix a bad page. I can't fix a blank one". ~Nora Roberts
We at Iprmentlaw are looking for some students and law professionals who have a knack for research and writing on the subject of intellectual property rights, media, entertainment, sports, gaming and recent technological developments qua metaverse and AI.
We encourage law students to participate and help enhance their drafting, research and analytical skills.
Why Iprmentlaw?
Iprmentlaw is a free access knowledge sharing initiative which brings together the media and entertainment community. This is the only platform which focuses on the niche sector of media and entertainment and brings across the latest legal updates on this sector for its readers.
Personal Note:
In my law school days, the only popular blog which would provide analytical posts on IP was Spicy IP. Late Prof. Shamnad Basheer has been an inspiration for many of us in pursuing IP as a career choice. There were some remarkable posts by Mr. Prashant Reddy on the copyright side which if not written would not have stirred critical debates and discussions and some stories would never have come to light of general public. That's the power of writing. When I started working in a media law firm it occurred to me that there was no focused platform on media and entertainment laws and there was so much in this sector which needed a dedicated platform.
I started Iprmentlaw over five years ago with this very objective of bringing the media and entertainment community together to have insightful discussions and remain updated on matters pertaining to this sector.
Today access to information due to digital disruption is much better. It is important that students and young professionals who are interested in this field contribute by way of writing and more importantly gain and spread knowledge.
How will it benefit you?
Visibility, knowledge, and exposure to a team of young intellectuals. This is a non-profit self-funded blog and hence all our contributors work voluntarily without any monetary gains.
If you are a student, writing good articles will help showcase your drafting and analytical skills and help you with your career goals.
So, if you have a zeal for writing, sharing knowledge and learning along with the best in the industry, do send us your submissions at contact@iprmentlaw.com.
Shortlisted candidates will get the opportunity to join Iprmentlaw as regular contributors. Those selected as contributors would be expected to write at least 1-2 analytical posts per month and participate in the weekly highlights.
Submission Guidelines:
Write freely but keep it original.
Pick up any interesting topic pertaining to media, entertainment, gaming, sports, information technology laws.
Keep it simple and reader friendly. Preferably under 1500 words unless the topic justifies it to be lengthier.
All sources and references must be hyperlinked in the text. If hyperlinking is not possible for a particular source/reference, kindly include the citation as an end note. You may also provide us with the PDF version of an order procured from a court website.
Kindly send us a few lines on the author's profile along with an image above 200X200 resolution to be carried along with the post. If you are providing a third party image not owned by the author, please provide the source link of such image.
Kindly submit a .doc version of your article to contact@iprmentlaw.com.