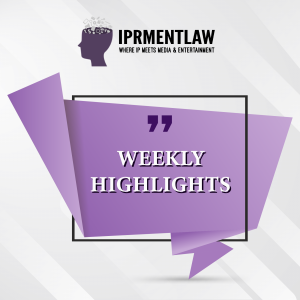 MPL, Dream Sports, and others disagree with IAMAI's proposal on gaming rules 
Four companies, Mobile Premier League, Games24x7, Dream Sports, and Zupee, have reportedly sent a letter to the IT Ministry expressing their disagreement with the observations made by the Internet and Mobile Association of India (IAMAI), regarding the proposed gaming regulations. They claimed that the industry body made the statement without consulting them or providing any information. The companies stated in the letter that they have "strongly objected" to the IAMAI's stance.
(see here)

Kellogg India denies allegations of plagiarism after EatFit's claims 
In response to EatFit's allegations of plagiarism in its brand campaign "kuch kar dikhane ki bhook" (the hunger to achieve something), Kellogg India issued a statement which aims to clear up any confusion regarding the campaign and emphasizes that "kuch kar dikhane ki bhookh" is a summary of the campaign idea, while the core message, "pet bhara hoga tabhi toh bhookh lagegi" (only when your child's stomach is full will they be hungry to do more), makes the context in which the line is used unique. It claims that the campaign was developed by its creative agency Ogilvy and extensively researched by the brand before being aired on television. The brand further states that the phrase "kuch kar dikhane ki bhookh" is a widely used colloquial term and therefore was selected to deliver the brand's message. It says that the term lacks exclusivity and cannot be considered proprietary material unless protected under Indian law.
(see here)

​Centre blocks more than 200 offshore gambling, predatory loan platforms 
The Ministry of Electronics and Information Technology (MeitY) has blocked more than 200 sites and apps associated with offshore betting and gambling platforms, including Betway and Dafabet. In addition, over 90 apps involved in unauthorized loan services have also been blocked, some of which are believed to have links to China and were involved in unacceptable data transfers and storage. These blocking orders were made under Section 69(A) of the Information Technology Act 2000 and were carried out based on instructions from the Ministry of Home Affairs. A senior government official stated, "The Ministry issued orders to block 138 apps involved in betting, gambling, and money laundering yesterday, and a separate order to block 94 apps engaged in unauthorized loan services has also been issued."
(see here)

'Totally misconceived': Supreme Court rejects plea to ban BBC in India over documentary
The Supreme Court rejected a frivolous public interest litigation (PIL) that called for a ban on the British Broadcasting Corporation (BBC) in India due to a recent controversy surrounding a documentary on the 2002 Gujarat riots. The court deemed the petition to be "completely misconceived" and "absolutely meritless." The same bench of the top court had previously sought the government's response on two separate petitions challenging the ban on distributing links to the BBC documentary titled "India: The Modi Question."
(see here)

A plagiarism case filed against Ajith's 'Valimai' almost after a year of its release The movie 'Valimai', released in February 2022, and gaining over Rs 200 crores at the box office, has recent faced a plagiarism claim  by a short film director named Rajesh Raja who claimed that the 10 scenes from his short film titled 'Thanga Sangili' which was released in 2019 are similar to a few scenes from Ajith's 'Valimai'.
(see here) 
I&B ministry has addressed 265 grievances around OTT content under IT Rules 2021: Anurag Thakur 
The Ministry of Information and Broadcasting (MIB) has received 265 complaints related to over-the-top (OTT) content since the Information Technology (Intermediary Guidelines and Digital Media Ethics Code) Rules, 2021 came into effect. According to Information and Broadcasting Minister Anurag Thakur, these complaints have been resolved in accordance with the established procedures. At a Times Now Summit in 2021, Thakur had also stated that 95% of the complaints received by OTT platforms are resolved at the first level of the three-tier grievance redressal mechanism.
(see here)

Centre says media council may not be desirable; Parliamentary panel makes fresh push 
The government has informed a parliamentary committee that it considers the creation of a unified media council to be unfeasible due to the uniqueness of each media platform and the presence of their own self-regulatory mechanisms. Despite this, the committee, led by Pratap Jadhav of Shiv Sena, is pushing for the establishment of such a framework with statutory powers to enforce its advisories. The committee argues that the Press Council of India and News Broadcasting Standards Authority have limitations in enforcing their own advisories.
(See here) 

Telangana High Court order to decide on-demand channel rates 
The Telangana High Court has ruled that any increase in the fees for on-demand or pay channels will be subject to the final outcome of the order delivered by it. These channels are television services that require a separate subscription fee in addition to the basic fee of a cable or satellite TV service. The bench, led by Chief Justice Ujjal Bhuyan and Justice N Tukaramji, was hearing a petition filed by the Telangana Cable Operators Federation challenging a decision made by the Telecom Regulatory Authority of India. The High Court has also issued notices to the Union Information and Broadcasting Ministry and TRAI, requiring them to respond by April 27. The federation claimed that the rate increase from 12 to 19 for a premium channel negatively impacts cable operators.
(see here) 
The Supreme Court stayed the bail condition imposed by the Kerala High Court, prohibiting the playing of the song "Varaha Roopam" in the Movie Kantara 
A bench of CJI DY Chandrachud and Justices PS Narasimha and JB Pardiwala stayed the condition imposed in this regard by the Kerala High Court while granting anticipatory bail to Rishab Shetty and Vijay Kiragandur, the director and producer respectively of the movie. The song Varaha Roopam has been the subject matter of two suits moved by Mathrubhumi Printing and Publishing Co. Ltd and Thaikkudam Bridge, the copyright holder and creator respectively of another song called Navarasam that was released over 5 years ago. While granting anticipatory bail, Justice A Badharudeen of the High Court had imposed a specific bail condition that "the petitioners shall not exhibit the film `KANTARA' along with the music `VARAHAROOPAM' in the film till an interim order or final order after addressing infringement of copyright in this matter will be passed by a competent civil court".
(See here)

Bring law to make Big Tech pay original content creators says a BJP leader Sushil Kumar Modi 
During a Zero Hour in the Rajya Sabha, a BJP Member of Parliament stated that print and television media companies are facing a loss of advertising revenue to large technology firms. Despite the significant amount of money invested in producing news content, the MP argued that these media companies are not receiving adequate compensation from tech giants for the use of their content. In his words, "Their (traditional media's) main source of income is advertisement. But in recent years, after the rise of tech giants like Facebook, Google, YouTube, bulk of ads is going to them… These Big Tech digital platforms display news content of print and digital media without spending any money on content creation and earn money through advertisement from it. Hence, it is necessary that these companies be compelled to share ad revenues with the creator of original content."
(see here)

Delhi High Court grants interim injunction in favour of Casio musical keyboard 
The Delhi High Court recently granted a permanent injunction in favor of the Japanese electronics company Casio regarding its "Electronic Keyboard" musical keyboards. Casio took legal action against Riddhi Siddhi Retail Venture for selling musical keyboards under the brand name Nexus 32 and with the registered trademark Blueberry, which closely resembled Casio's design and features. Despite the defendant's argument that the plaintiff's design was not unique and similar to other products in the market, the court determined, after reviewing the physical samples of both keyboards, that the two were deceptively similar in design.
(see here)

"FABIO" or "FAB!O" vs OREO – the Delhi High Court restrains Parle from using "FABIO/FAB!O after OREO alleges infringement 
In its recent order in Intercontinental Great Brands v Parle Product Private Limited,  the Delhi High Court restrained food processing company Parle from selling its vanilla cream-filled chocolate sandwich biscuits in the packaging with the mark 'FABIO' or 'FAB!O' because of its resemblance and deceptive similarity to 'OREO' biscuit. The judge said that the way in which the defendant has declared that its 'FAB!O' mark is required to be pronounced as 'fab-ee-yo' amounts to a candid acknowledgement that 'FAB!O' is required to be pronounced like 'OREO', which would be pronounced 'or-ee-yo'.
(see here)

Khan Chacha trademark infringement: Delhi High Court orders Swiggy, Zomato to delist 24 infringing entities 
The Delhi High Court recently issued a restraining order against 24 food establishments from using the trademark "Khan Chacha." The court also ordered the removal of these outlets from food delivery platforms Zomato and Swiggy. Gupta and Gupta Private Limited, has been using the trademark "Khan Chacha" since 1972, proving a prima facie case of infringement in its favour. The Cout noted that "Usage of the 'Khan Chacha' moniker by any other entities for similar services, would, therefore, clearly infringe the plaintiff's registered mark within the meaning of Section 29(1) of the Trade Marks Act, 1999,"
(see here)
79 cases lodged against news channels from 2020 for slanderous programmes: Govt 
The Union minister of information and broadcasting Anurag Thakur told Parliament that the Centre has lodged 79 cases from 2020 thus far in a bid to take action against private news channels for broadcasting slanderous programmes on news channels by the issuance of advisories, warnings, 'apology scroll' and 'off-air' orders.
(see here)