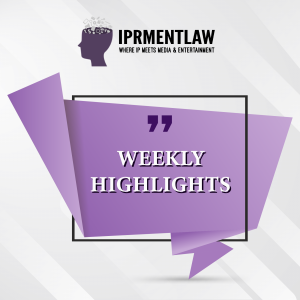 Tandav Web Series Row: Bail Granted To Amazon Prime Video India Head
The top court set aside the judgment of the High Court of Allahabad which had earlier dismissed the application seeking anticipatory bail.
Aparna Purohit had been booked for alleged commission of offences under Sections 66 (Computer-related offences), 66F (Punishment for cyber terrorism) and 67 (Transmitting obscene material) IT Act, 2008 (as amended) apart from Sections 153-A (Promoting enmity between different groups), 295 (Defiling place of worship with intent to insult the religion), 505(1)(b) (Public mischief), 505(2) (Statements promoting hatred between classes), 469 (Forgery for purpose of harming reputation) of IPC.
Govt Approves New Self-Regulatory Body For Print, Digital News Outlets
The self-regulatory body is called PADMA and has 47 news publishers.
PADMA CEO told the "The organisation will primarily look at grievances related to content on digital media platforms pertaining to current affairs that have not been addressed at the level of the platform."
The association will be led by former high court judge Mool Chand Garg and have journalist Manoj Kumar Mishra and Prasar Bharati part-time Ashok Kumar Tandon as members.
Airing Of Public Service Content Could Be Voluntary For Channels
Giving big relief to broadcasters, the Ministry of Information and Broadcasting (MIB) has reportedly indicated that it may allow channels to make the decision to air 30-minute channels public service content on TV a voluntary decision for channels.
Google To Drop Advertisements Of Online Betting Firms
India has asked Google to stop displaying surrogate ads of overseas betting companies such as Fairplay, PariMatch, Betway and 1xBet in search results and YouTube, amid a crackdown on illegal online gambling.
Overall, ₹5,000 crore is being deposited in the accounts of multiple agents of these companies in India every month, according to estimates by the All India Gaming Federation (AIGF). However, there is no clarity on where this money is going or how it's being used, the lobby group claims.
Delhi HC Halts Release Of Tamil Movie 'Ajinomoto' Over Trademark Infringement
The suit was filed for trademark infringement by a manufacturer of monosodium glutamate seasoning (MSG) in Japan.
In an interim order, Justice Sanjeev Narula, said "Ajinomoto" or any film bearing an identical or deceptively similar name shall not be released in any format, including cinema hall or OTT platforms. The court said if an ex-parte injunction is not granted to Ajinomoto Co Inc, it shall suffer irreparable loss.
Centre To Open 10,000 Cinema Halls In Rural Areas By 2024
The opening of such facilities is part of an agreement signed between CSC, an SPV under the Ministry of Electronics and IT, and October Cinemas.
The agreement has been signed with an aim to open around 1 lakh small movie theatres in rural areas, each having seating capacity of 100-200 seats.
Delhi High Court's Justice Pratibha Singh among Managing IP's 50 Most Influential People In IP
Delhi High Court judge, Justice Prathiba M Singh has made it to Managing IP Magazine's list of 50 most Influential People in IP alongside President of the United States Joe Biden and singer Ed Sheeran, among others.
She is one among 7 judges from around the world who are on the list.
India Today Copyright Case: Telegram Reveals Identity Of Users; Delhi Hc Allows Disclosure Of Information To Police
The India Today Group has sued Telegram for trademark and copyright infringement for allegedly sharing content on its channels which is usually behind a paywall.
Following the directions of the Delhi High Court in India Today Group's copyright and trademark infringement lawsuit, the cloud-based messaging app Telegram recently submitted the details of its users' 'Basic Subscribers Information' in a sealed cover before the court.
Sony Pictures Networks India Retains Australian Open Media Rights For 3 More Years
As per market sources, the three-year deal, which begins in 2023, is worth $5 to 6 million.
With this renewal, the broadcaster will hold exclusive TV and digital rights for the global sporting event across the Indian subcontinent – Afghanistan, Bangladesh, Bhutan, Nepal, Maldives, Pakistan, and Sri Lanka. The Grand Slam will continue to be televised on SPN's sports channels as well as live-streamed on its on-demand OTT platform SonyLIV.
Lionsgate Reveals Its Biggest Ever Theatrical Slate For India
The movie slate includes critically and commercially acclaimed films including John Wick: Chapter 4, Golda, Plane, Bricklayer, About My Father, White Bird: A Wonder Story, and The Hunger Games – The Ballad of Songbirds & Snakes.
Eros Media Worldwide, Arabia Pictures Announce Collaboration To Produce 3 Films
Eros Media Worldwide has joined hands with Arabia Pictures to produce 3 feature films. The films will include remake of a 2012 bollywood box office hit, which will go on floors by 2023 mid.
Trademark Infringement: Delhi HC Holds Sadar Bazar Trader Guilty Of Contempt For Continuing To Sell Louis Vuitton Products
The Delhi High Court has held a Sadar Bazar trader guilty of contempt for violating its restraining order by continuing to sell the belts of famous French luxury brand Louis Vuitton.
Justice C. Hari Shankar in the order dated December 2 said the counsel representing Ansari Belt House has acknowledged the fact that, despite the passing of the interim directions in the order dated September 23, the trader continued to deal in the infringing products.
Justice Shankar listed the case for considering the aspect of sentencing on February 02, 2023.
The court also issued bailable warrants against another trader Polo Belt for breaching the restraining order, while recording that neither any response has been filed by him to the application alleging breach of the September 23 order nor is he present before the court.