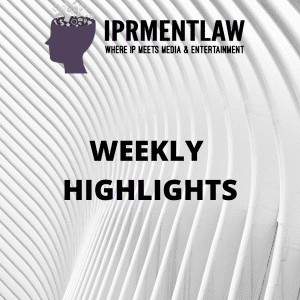 Expert Opinion of Dr Arul Scaria in Phonographic Performance Limited vs Lookpart Exhibitions and Events Private Ltd. is taken on Record (see here).
The parties settled the settled out of court and the Court (merely) took the expert opinion on record noting ". . . the valuable assistance rendered by the Expert – Dr. Scaria. Considering the time and effort expended by Dr. Scaria in addressing the legal issues which have been raised in the present suit".
Dr Scaria's full submissions can be found here on his SSRN Page.
Read order here.
Madras High Court takes suo moto cognizance on Govt. permitting Life damaging video games despite the ban (see here)
Recently, the Madras High took suo moto cognizance of increased addiction to online gaming among teenagers. The court was hearing a habeas corpus petition relating to a missing girl, who was later found to be addicted to playing an online game called "free fire". The Court noted "In our view, the State as well as the Central Governments must come forward with a clear-cut report as to how these types of online games which damage the life of younger generation, are permitted despite the ban imposed by the Government of India. We are, therefore, of the view that constitutional Court has got the responsibility to take up the issue in larger public interest"
Plea for pre-screening of content on OTT before the Supreme Court
The Supreme Court, recently, while hearing a plea filed by Mirzapur resident Sujeet Kumar Singh for setting up a pre-screening committee for web series, films and other programmes that are directly released on online platforms noted "How can there be a pre-screening committee for web series? There is a particular legislation. Unless you say OTT (over-the-top) is also a part of it… you must say that existing legislation must apply to OTT. Various questions will arise because transmission occurs from other countries."
In a society where censorship is becoming (or has become) a norm, "what kid of implications it will have on creative cultures" is a question worth pondering again. We wrote something on this earlier here.
"Adipurush" this time – Hindu Sena moves Delhi HC against makers of the movie (see here)
A Public Interest Litigation (PIL) is filed by the national president of Hindu Sena seeking the removal of all objectionable content related to Lord Ram, Sita, Hanuman, Ravana and others. The movie is alleged to have hurt the sentiments of the Hindu community by depicting religious figures in an inappropriate and inaccurate manner.
CBFC directed mandatory carrying of film certification in film advertisements (see here)
The Central Board of Film Certification (CBFC), recently directed film producers to mandatorily carry the category of certificate granted (such as 'U/A', 'A' or 'S') to a film in all advertisements after the date of certification.
Plea before SC to Ban the movie "Thank God" (see here)
In the litany of litigations protecting the "sentiments", here's another petition filed by Shri Chitragupta Welfare Trust seeking directions for removal of the trailers and posters of the said movie from YouTube and other electronic platforms and restraining its release in theatres or on the OTT platforms.
Central consumer protection authority (CCPA) issues notices for surrogate ads to Kamla Pasand, Rajnigandha (see here)
As per this new thread, the CCPA has sent notices for surrogate advertising to various brands of products including Kamla Pasand, Vimal pan masala, Rajnigandha, Seagram's imperial blue(alcoholic beverage), Sterling Reserve(alcoholic beverage) etc. Earlier, the Ministry of Information and Broadcasting issued an advisory on October 3 to all private satellite channels to refrain from broadcasting misleading ads.
SC rejects Facebook's Plea to Dismiss CCI Probe Into WhatsApp's Privacy Policy (see here)
Recently, the Supreme Court dismissed the pleas by Meta Platforms, which is the parent company of Facebook and WhatsApp, challenging the probe ordered by the Competition Commission of India (CCI) into WhatsApp's updated privacy policy of 2021. The Court noted "We've heard the counsel. No interference of this court is required to be called for. The CCI is an independent authority to consider any violation of the provisions of the Competition Act of 2002. The CCI cannot be dissuaded from investigation and alleged violation of the Competition Act, 2002".
"Rajnigandha is a Well-Known Trademark" says the Delhi High Court in a case between Rajnigandha vs Rajnipaan.
The Delhi Court passed a decree in favour of the manufacturers of the pan masala Rajnigandha and permanently restrained the production, sale or promotion of any product under the trademark 'RAJNI PAAN'. The Court noted that "The packaging of the impugned product has been designed in an identical colour scheme, font and labels, to give an overall look and feel of the Plaintiffs' products under the RAJNIGANDHA marks . . . has been done intentionally to trade off the significant goodwill and reputation of the Plaintiffs in their RAJNIGANDHA marks. It is obvious that there is a dishonest adoption by the Defendants and Plaintiffs have made out a case of infringement and passing off."
Order reserved in Salman Khan's plea for interim relief in a defamation suit against Ketan Kakkad (see here)
Some time ago, actor Salman Khan filed a defamation suit before the city civil court against his Panvel neighbour Ketan Kakkad for uploading defamatory videos on social media and sought directions for their removal and restraining him from making such comments. The City Civil Court had rejected the actor's claim saying that comments were made with evidence and refused to pass an injunction order. The actor moved to Bombay HC wherein the order is reserved now.
IPRS reaches out to budding musicians in tier 2 and 3 cities (see here)
Recently, the Indian Performing Right Society Limited (IPRS) a copyright society in India representing thousands of authors, composers, and publishers across the nation, attended the ZIRO Festival of Music. It educated music aficionados about the advantages of licensing and the pertinent copyrights available to them. As per the Wikipedia page – "Ziro Festival of Music is an outdoor music festival held in the Ziro valley in the northeast Indian state of Arunachal Pradesh".
ApplesTree vs ApplePlant – Delhi High Court's semiotic sense on the interpretation of Synonymy
Recently, in a case, Justice Jyoti Singh interpreted synonymy in a matter related to two similar trademarks – APPLESTREE and APPLEPLANT, which belonged to different manufacturers. The Court held that the words 'plant' and 'tree' are a classic example of synonymy where reading one would bring to mind the other and lead to confusion in the mind of purchasers. The Court underscored the study of semantic theory and noted that ""Synonymy would cover the semantic field where words have nearly the same meanings such that they can be interchanged in some degree and most common cases under this head are of relative synonymy as it is difficult to find words which are absolute synonyms of each other," said Justice Singh".
Note – This can be an interesting case to look at the semiotics relationship with trademark law. Those interested may look at Barton Beebe's "The Semiotic Analysis of Trademark Law" and David Tan's Cultural (Re)Codings: Copyright, Trademarks and the Right of Publicity