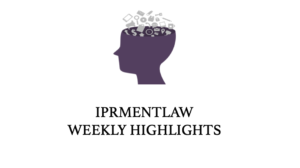 MADRAS HIGH COURT REFUSES TO STAY RELEASE OF ALLEGED BIOPIC ON JAYALALITHA 'QUEEN' AND 'THALAIVI'
In the suit filed by Late AIADMK chief Jayalalithaa's niece, Deepa Jayakumar, before the Madras High Court, seeking a stay on two in-production projects, allegedly based on the former Tamil Nadu Chief Minister's life –a film "Thalaivi" and a web series "Queen"- will tell the politician's story, the Madras High Court has vide its order dated December 12, 2019 refused to grant any stay on the release of the two projects. Read order here.
Detailed post covered here.
IPRS MOVES BOMBAY HIGH COURT AGAINST USHODAYA ENTERPRISES WHICH RUNS THE RADIO CHANNEL EENADU FM
The Indian Performing Rights Society (IPRS) has filed a suit in the Bombay High Court against Ushodaya Enterprises Pvt. Ltd which runs the radio channel Eenadu FM/ EFM.
The order dated December 9, 2019 states that the Interim Application is made in a Commercial IP Suit based on the rights, interests and privileges of IPRS as a performing right society. These rights and privileges are claimed under Section 33 of the Copyright Act. Read order here.
After hearing the parties at length, the Court decided that since the issue involved in the matter is an issue of law, in particular relating to the rights to be claimed under Section 33 post its amendment in 2012, the Interim Application itself may be heard finally.
The Interim Application is stood over to 21 January 2020 for final hearing.
Read detailed post here.
SURROGATE TOBACCO ADVERTISEMENT: MAHARASHTRA GOVT SEEKS TRADEMARK INFO ON BRAND
The Surrogate Advertisement (Prohibition) Bill, 2016, which prohibits advertisement of substitute product in pretext of a real one introduced in Rajya Sabha in 2017, is yet to be approved. Taking a stern view of surrogate advertisements of flavoured and scented tobacco, both banned in Maharashtra, the state government has written to the Trademark Office  (reports erroneously mention Copyright Office) of the central government to provide details of Vimal and products the brand is registered for. Officials said they were waiting for its trademark details to understand whether Vimal is registered for cardamom or tobacco before pursuing any legal action. The Maharashtra public health department has sought details of three trademarks- 'Dane Dane Me Kesar Ka Dum', Vimal (Hindi logo) and Vimal (English logo) from the Trademark Office. Officials from health department said the advertisement of Vimal, promoted as a mouth freshener, is being seen as a surrogate advertisement for tobacco products. In one advertisement, Bollywood actor Ajay Devgn promotes Vimal Elaichi of Vishnu & Company Trademarks Pvt Ltd as a "silver-coated Elaichi". As per section 5 of Cigarettes and Other Tobacco Products Act, 2003, tobacco and cigarette advertisement are prohibited. Maharashtra Food and Drug Administration (FDA) has banned sale and consumption of scented and flavoured tobacco, zarda, khaini, pan masala, and gutkha since 2012. Vimal's few registered trademarks such as Pan Masala, Red, Apna, Jhatka and Signature are registered as "tobacco products and smokers' articles". Its other products such as Elaichi, Kesaria and Gold are registered as agricultural products.
RAJASTHAN HIGH COURT ISSUES NOTICE IN PLEA AGAINST RANI MUKERJI'S COP THRILLER 'MARDAANI 2'
The film "Mardaani 2" which released on December 13, helmed by debutant director Gopi Puthran has landed in yet another trouble. The film has already faced a lot of criticism after the release of its trailer which showed the city of Kota, Rajasthan as the setting of the film. There has been an uproar among the residents of the Indian city as they claim that the depiction of Kota as an unsafe place for women in the country is unfair. The plot of the film details a fierce female police officer, essayed by actor Rani Mukerji, in her quest to track a serial rapist and murderer and the setting of the film is predominantly the city of Kota, Rajasthan. In the latest developments, Taslim Ahmed, a resident of Kota has filed a petition in the Rajasthan high court demanding a ban on the release of Mardaani 2 alleging that the movie has shown Kota city in bad light by terming it a "rape city". The petitioner claims that the image of the city of Kota could be tarnished by its portrayal as a crime hotspot of the country. A single bench of Rajasthan High Court on December 12 issued notices to the Union ministry of information and broadcasting through its secretary and the chairman of Central Board of Film Certification (CBFC) on a petition demanding ban on movie Mardaani 2.
MADRAS HIGH COURT QUASHES PROCEEDINGS AGAINST VIJAY, LYCA PRODUCTION AND 3 OTHERS
The Madras High Court on December 10 set aside proceedings against actor Vijay, Lyca productions, which is the producer of Tamil film 'Kaththi', and three others in a copyright infringement case. It directed a judicial magistrate court to summon Kaththi director A.R. Murugadoss and compare the short film Thaga Bhoomi and the 2014 Vijay-starrer and said it could go ahead with proceedings if there was prima facie evidence regarding the complaint of copyright violation.
Anbu Rajasekhar, director of Thaga Bhoomi (thirsty earth), had filed a plea in the lower court, claiming that the plot of the film had been copied from his documentary.
Justice G R Swaminathan of the Madras High court's Madurai bench was hearing a plea filed by Vijay and others seeking quashing of proceedings in the Thanjavur judicial magistrate court. The judge set aside the proceedings against Vijay, Lyca productions and three others, saying there was no material against them.
IPAB'S NON PROVISION TO APPEAL TO SUPREME COURT
In a press release by the Ministry of Commerce and Industry, it was clarified that any order of the Intellectual Property Appellate Board (IPAB) and any decision of intellectual property offices (such as the Controller General of Patents, Designs and Trademarks) can be challenged before High Courts by way of a writ petition uWEEnder Article 226 of the Constitution and before the Supreme Court by way of Special Leave Petition under Article 136 of the Constitution.
The applicants of all Intellectual Property Rights (IPRs) can directly file Special Leave Petition (SLP) before the Hon'ble Supreme Court against any order of Intellectual Property Appellate Board (IPAB). They can also prefer writ petition before the High Court against orders of IPAB and IP offices by invoking Article 226 of the Constitution of India and then file SLP before the Supreme Court.
Ministry of Law & Justice only vets the amendments proposed by concerned Ministry or Department. As provisions for filing SLP directly against orders of IPAB and also against writ petitions disposed by High Court with respect to orders of IPAB and IP offices are in place and there is no proposal under consideration for such amendment by Department for Promotion of Industry and Internal Trade (DPIIT).