The Ministry of Information and Broadcasting (I&B) vide it's circular dated 17 October, 2018 has proposed an amendment to the decade-old Sports Broadcasting Signals (Mandatory Sharing with Prasar Bharati) Act, 2007 and has sought feedback on the plan.
The Act requires private sports broadcasters such as Star India and Sony to share their live feeds of sporting events that are of national importance with the public broadcaster. Prasar Bharati, which runs television network Doordarshan (DD) and All India Radio, then retransmits the broadcast signals on its terrestrial network and its own direct-to-home (DTH) platform -DD Free Dish.
As a result of which the viewers, who do not have DD FreeDish or Doordarshan's terrestrial network, are either unable to watch these sporting events or are compelled to watch them on highly-priced sports channels. This defeats the main objective of the Act which is to make important sporting events like cricket, football and hockey world cups accessible to as many Indians as possible, according to official notice.
Now to enable such content to reach "the largest number of viewers, on a free-to-air basis." the ministry has proposed this amendment. According to the new amendment, DD will be able to air these events on private cable and DTH networks as well. Previously, DD was only allowed to rebroadcast on its own terrestrial and DTH network.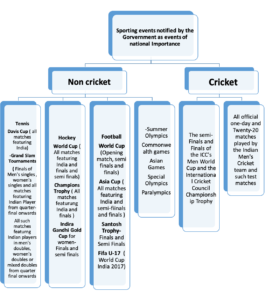 The proposed amendment will surely come as a bonanza for DD and all sports and cricket loving citizens of the country. But it will serve a huge blow on the earnings of private sports broadcasters such as Star India and Sony. This amendment will not only have an impact on the number of subscribers but also on the advertising revenues generated by private channels who actually hold the rights to these events  It is also bound to effect the  Board of Control for Cricket in India (BCCI) to a certain extent.
IS IT REAL "PUBLIC INTEREST" OR GOVERNMENT'S CLEVER TACTIC?
The Mandatory Sharing Act has drawn a lot of attention ever since it had come to existence in 2007. The major point of issue has always revolved around the part where it mentions about the "events of national importance". Section 2(s) of the Act defines sporting events of national importance as "Such national or international sporting events, held in India or abroad, as may be notified by the Central Government in the Official Gazette to be of national importance". But the problem is that there is no clarity available as to how the government defines or categorizes such events of national importance.
In absence of a clear definition, many industry executives have claimed that the Central Government, which has the power to notify such events, is abusing the Act's provisions. According to them the Government often selects events which are less about public interest and more in consonance with improving DD's viewership and advertising revenues.
This claim made by industry experts cannot be completely ignored considering the I&B ministry's attempts to capture the cricket market over the last few years. In 2017, for months, the ministry had worked on a proposal to include the Indian Premium League (IPL) in the listed event for mandatory sharing with DD. This had come shortly after Star India had acquired IPL rights for period of 5 years for a whopping 16,347 crore ($2.2 billion). After extensive negotiations, Star agreed to let DD broadcast a delayed feed of selected IPL matches.
On the other hand, many times, non-cricketing events that are notified by the government but  which doesn't seem to attract a lot of viewers are not even aired by DD.
Earlier, this year, on April 25, India's Ministry of Information and Broadcasting (MIB) on April 25 issued a notice mandating all TV channels broadcasting live sports of "national importance" to display a ticker with immediate effect stating the match was also available on DD's free-to-air platform.
The order required channels to run the scroll — 'This match/game can also be viewed on DD Sports channel on DD Free Dish DTH and DD's terrestrial network on free to-air basis' — in appropriate colour, font and size making it prominently visible after every 15 mins.
Another interesting thing to note is the timing of the proposal. Cricket is the most enjoyed sport by Indians and I&B intentions seem to be fishy seeing that the proposal has come out in less than a year right before the ICC Cricket World Cup 2019.
We all are aware that DD's own content is not at all attractive. Hence, this obsession for sports especially for cricket could be for more viewership and revenue. An additional advantage for DD is that it also gets to earn advertising revenue from airing such matches/games. While, by law, 75% of the revenue earned from advertisers must go to the actual rights holders, the rest 25% that DD is able to earn from this is literally free money. Interestingly, the IPL deal between Star and Doordarshan of airing a few selected matches was on a 50:50 advertising revenue sharing basis.
But what is most surprising is that I&B Ministry's plan goes against Supreme Court's decision in the case of Union of India V BCCI which came barely a year ago on 22 August 2017. The Supreme Court in this decade running case had strictly ruled that Prasar Bharati can air the feed received from private broadcasters only on its own terrestrial network and free dish, but not on Doordarshan channels carried by cable operators and private DTH platforms.
FACTS OF THE CASE
Right after the Act was first introduced in 2007, a case was filed by Nimbus Communications Ltd and BCCI.  In 2013, Star India Pvt. Ltd and ESPN Software India Pvt. Ltd intervened in the case. Between 2007 and 2012, BCCI had granted Nimbus Communications Ltd. which used to run Ten Sports the right to broadcast/telecast cricket matches. For 2012-2018, the BCCI allotted these rights to Star India Pvt. Ltd. Star India in turn recruited ESPN Software Pvt. Ltd. to distribute the signals.
The lawsuit arose from confusion about two separate laws. One was Sports Broadcasting Signals (Mandatory Sharing with Prasar Bharati) Act, 2007 itself and the other was section 8 of the Cable Television Networks Act.
Section 3(1) of the Mandatory Sharing Act, 2007 states :
"No content rights owner or holder and no television or radio broadcasting service provider shall carry a live television broadcast on any cable or Direct-to-Home network or radio commentary broadcast in India of sporting events of national importance, unless it simultaneously shares the live broadcasting signal, without its advertisements, with the Prasar Bharati to enable them to re-transmit the same on its terrestrial networks and Direct-to-Home networks in such manner and on such terms and conditions as may be specified"
Section 2(s) of the Act defines sporting events of national importance as "Such national or international sporting events, held in India or abroad, as may be notified by the Central Government in the Official Gazette to be of national importance".
In 2007, by notifications under the above section, the Central Government declared cricket matches to be sporting events of national importance, thereby forcing Star India/ESPN to send Prasar Bharti live broadcast signals for transmission on its terrestrial and DTH networks. Prasar Bharti re-transmitted these signals on the Doordarshan channel, DD1 (National).
It so happened that DD1 (National) was also a notified channel under S. 8, Cable Act, 1995 which states that :
"(1) Every cable operator shall, from the commencement of the Cable Television Networks (Regulation) Amendment Act, 2000, retransmit at least two Doordarshan terrestrial channels and one regional language channel of a State in the prime band, in satellite mode on frequencies other than those carrying terrestrial frequencies. (2) The Doordarshan channels referred to in sub-section (1) shall be re-transmitted without any deletion or alteration of any programme transmitted on such channels.]
Section 8 made it mandatory for all cable operators to carry Doordarshan channels as notified by the government.
Now, as under these two conflicting sections all cable operators got the access to broadcast sporting events through two sources—private sports broadcasters and DD, exactly what the Mandatory Sharing Act prohibited. This was eroding Star India/ESPN's (and resultantly BCCI's) revenue base in two ways: first : viewers were no longer buying separate subscriptions to Star India or ESPN channels and two their advertisement revenues were decreasing, as the live feed shared with Prasar Bharti was advertisement free.
Finally, in 2015, Prasar Bharati lost the case to Star India when the Delhi High Court sided with the latter. Prasar Bharati challenged the verdict in the apex court, but the broadcaster lost the case again when the Supreme Court, in 2017, upheld the Delhi HC order.
The appellants had argued that Section 3 of the Sports Act, 2007 ought to be interpreted coextensively with Section 8 of the Cable Act, 1995 so as to maximize public access but the Court sided with the respondents' private rights, both under the Copyright Act, 1957 and the Media Sharing Arrangement between Star India/ESPN and BCCI. The Sports Act, 2007, which demanded these rights be shared with Prasar Bharti, had been characterized as an "expropriatory legislation" that required strict construction in the judgment ( Please refer to Para 28 of the Judgment)  An interesting point to consider is that prior to this decision, there has been no instance in copyright law, or for that matter in other areas of IP law, where any legislation (or a provision) has been labeled as "expropriatory"
Even after such a strong ruling by the Supreme Court, it is very surprising the Government has proposed this amendment which will give Prasar Bharati practically the same rights as the actual rights holders for major sporting events and that too without having to pay a single penny!
It seems that the I&B ministry has called for comments and feedback on the proposed amendment only for the purpose of fairness. It seems like a mere formality that the Government is trying to get done with and it's very doubtful whether they would actually re-consider the amendment after receiving negative comments.
But one thing that is certain is that if the government decides to move ahead with this new amendment, it will again face legal challenges from broadcasters and sporting federations.
ALL DOWN FOR PRIVATE BROADCASTERS
In 2012, Star had paid the BCCI Rs 3,851 crore for the television broadcast and digital rights for India's international cricket matches at home as well as a few domestic leagues until 2018. This year, they retained these rights for another five years for Rs 6,138.1 crore ($944 million).  In 2014, Star India Private Limited has paid $1.98 billion for the broadcasting rights of all ICC tournaments for an eight year period, ending in 2023.
Under the proposed amendment, private broadcasters will lose on all these fronts because obviously if DD is airing the same content on the same DTH and cable networks as private sports channels, cable operators would without any doubt chose the former. Why would they go for it, when they know they have to pay subscriber fees for private sports channels while DD comes free?
In such scenario, private sports channels are likely to lose their viewers also and hence, their ratings. No exclusivity and shared content will also take the stand to bargain with advertisers from the hands of broadcasters.
While the upside for DD is clear from the proposed amendment but it could harm the overall development of sports in the country in the long run.
It does take a lot of effort and investment to strategise sporting events because no other content provides as much exclusivity as sports in India. Also, financially speaking, it is extremely lucrative because sports and particularly cricket, is like a gold rush. No doubt on why DD wants it this much. But if they really get this, it could lead towards the doom of sports broadcasting in India because no one would be willing to pay as much as they do right now for the media rights. The fact that the Government, in absence of any definition, can any moment declare any sport as "game of national importance" is extremely unfair for private broadcasters. Now, if the I&B ministry suddenly decides to notify the private leagues such as Pro Kabaddi or the Celebrity Cricket League as "game of national importance" then all the incentive of developing the sport and the effort of giving the particular league so much publicity goes into waste.
HIGH TIME GOVERNMENT SHOULD STOP THIS "UNSPORTING" CONDUCT
The Indian Government should clear this ambiguity over broadcasting laws for sporting events. No other country has such confusing laws for sports broadcasters.
In the United Kingdom, the Secretary of State for Culture, Media and Sport has the right to designate certain sporting events as events of "national interest" and such events are required to be shared with free-to-air television channels which reaches 95% of the UK's population-according to a report titled "A Wider Spectrum", released by Bengaluru-based independent think-tank "The Sports Law and Policy Centre. For other providers, only the highlights of the events need be provided.
In Europe, Article 14 of the Audiovisual Media Services Directive requires each member state, to ensure that certain events, which are considered to be of "major importance for society" are not broadcast on an exclusive basis in such a manner so as to deprive a substantial portion of the public coverage of the event .They also have a proper criteria to assess events of "major importance for society". There is no such statutory regulation in America with this regard.
This amendment will surely invite multiple lawsuits from private broadcasters, and maybe from BCCI as well. And it also certain that the Government like always will play the "consumer interest" card but if such a law is to be challenged, then the contesters will have to establish that the amendment is unconstitutional and/or arbitrary or that it is outside legislative competence.
Image source: here