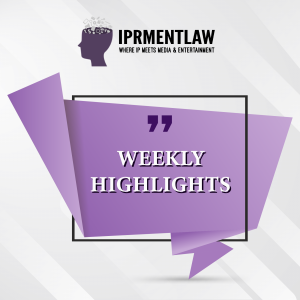 Religious and Government Events exempted from paying royalty to collection societies
Keeping in view several complaints, grievances and representation from the general public as well as other stakeholders about alleged collection of royalties by copyright societies for performance of musical work in marriage functions, the Department of Promotion of Industry and Internal Trade (DPIIT), Government of India, has issued a public notice on 24th July 2023 reiterating that in accordance with Section 52(1)(za) of the Copyright Act, 1957, that performance or communication of any literary, dramatic, musical or sound recording work at any religious ceremony which includes marriage ceremony and social festivities associated with marriage shall not amount to copyright infringement.
With the notice, copyright societies have been directed to strictly refrain from contravening the above provision and a caution advisory has also been issued to the general public to not oblige to any uncalled for demands of any copyright society/individual/organization that contravenes Section 52(1)(za) of the Act.
It is important to note here that the Delhi High Court recently in Ten Events and Entertainment v. Novex Communications Pvt. Ltd., observed that the question of what celebrations or festivities would qualify as 'social festivities associated with the marriage' is a question of fact and has to be decided on case to case basis.
Read public notice here.
Cinematograph (Amendment) Bill, 2023 Passed In Rajya Sabha- New provisions on piracy and certifications
On July 27, 2023 Rajya Sabha passed the Cinematograph (Amendment) Bill, 2023, which introduces strict anti-piracy provisions to take action against film piracy. As per reports, the Bill proposes a three-year jail term and a fine of up to 5% of a movie's production cost for those making its pirated copies. It also introduces three certifications under the 'UA' category, UA 7+, UA 13+ and UA 16+, which means that children younger than the given age limits can access such movies with parental guidance. The Bill also prohibits the recording of the film or any part that is being exhibited at a cinema theatre using audio-visual devices. The Bill seeks to amend the Cinematograph Act, 1952 which authorises CBFC to require cuts in films and clear them for exhibition in cinemas and on television.
You can read further here.
Oppenheimer Bhagvad Gita Controversy- I&B Minister demands accountability from CBFC
The recently released Christopher Nolan film Oppenheimer has come under scrutiny over the presence of the Bhagvad Gita in an intimate scene in the beginning of the film. This scene features Murphy and his love interest in a romantic activity when she finds Bhagavad Gita on Oppenheimer's bookshelf and asks about a particular phrase which is one of the most iconic dialogues of the film. "I am become death, destroyer of world," he reads.
The visible nudity in that scene had been censored using a CGI dress and the cover of a hard copy of the scripture had been blurred in the Indian version, but many on the religious right were still enraged that the CBFC allowed this part of the film to make it into Indian theaters.
As per reports from Times of India, I&B Minister Anurag Thakur has publicly called for accountability from the CBFC and said stringent action will be taken against those responsible for approving the film.
Insufficiently Stamped Agreement is only against Stamp Act, cannot be a ground to set aside arbitral award- Delhi High Court
The Delhi High Court ruled that although an Agreement with an arbitration clause must be properly stamped to be admitted as evidence, once the Arbitrator has accepted it and based the award on it, the award cannot be set aside due to insufficient stamping. The Court further clarified that as per Section 61 of the Indian Stamp Act applied, it could only impound the document and refer it to the Collector of Stamps for adjudication on stamp duty and penalty. However, this would not affect the enforcement or validity of the arbitral award.
Bombay HC directs film lab to hand over prints of 12 Films of Dada Kondke to Everest Entertainment LLP
The Bombay HC on July 20, 2023 has directed Bombay Film Enterprises Private Ltd and National Film Development Corporation Ltd to release and hand over negatives of 12 films of Late Shrikrushna Kondke alias Dada Kondke to Everest Entertainment LLP ("Everest")
The order was passed in Everest's interim application in its pending suit to declare itself the lawful owner and absolute copyright holder of rights in the 12 films basis rights assigned by Kondke's legal heirs to Everest.
Read more about it here.
Varun Dhawan starrer 'Bawaal' accused of trivializing holocaust by Israeli assembly and Jewish rights group.
A Jewish organisation has written to Amazon Prime asking the streaming service to remove Bollywood film Bawaal from its platform for its "insensitive portrayal" of the Holocaust by using imagery and dialogues related to the holocaust in bad taste. The Israeli assembly also took to Twitter to comment that "There was a poor choice in the utilisation of some terminology in the movie, and though we assume no malice was intended, we urge everyone who may not be fully aware of the horrors of the Holocaust to educate themselves about it".
Read more about it  here
Supreme Court rejects plea seeking revocation of Adipurush's film certification
The Supreme Court has stayed the ongoing proceedings in various high courts related to the creators of the film "Adipurush". The Supreme Court also issued notice on an appeal filed by the makers of the film against the Allahabad high court order asking them to appear before it on July 27, 2023 and told the central government to form a committee to give its views on the film. The Court further refused to entertain the plea seeking revocation of CBFC certification for the movie and commented "Everyone is touchy about everything now…tolerance for movies, books are going down"
Big Boss Telegu (Season 7)- Andhra Pradesh High Court issues notice to makers, agencies and host Nagarjuna.
The Andhra Pradesh High Court has issued notices to Star Maa Television, Endemol India, CBFC, the state and central governments, and actor Nagarjuna in relation to PIL petitions against obscenity in reality show Big Boss. The court highlighted the importance of pre-telecast censorship on TV shows and called for the program's upcoming season to be stopped. The court conveyed its discontent with the present situation and highlighted the possible threat to societal moral values that may arise if TV channels begin broadcasting indecent content in the name of freedom of expression. The court stressed the importance of holding someone accountable for regulating the content.
Ketireddy Jagadeeswar Reddy, president of Telugu Yuva Shakti and a film producer, had filed two PIL petitions, claiming that Big Boss was being aired without any censorship, rendering it unsuitable for children. Counsel, arguing on behalf of the petitioner, stressed that any show containing adult content should be broadcasted between 11 pm and 5 am.
The counsel representing the channel clarified that pre-telecast censorship is not mandated by any provision. He encouraged viewers to register complaints if they had any concerns. He elaborated on the three-tier grievance redressal mechanism established by the Cable Network Act. If the show required pre-telecast censorship, he proposed that the Union government should introduce appropriate legislation. Furthermore, he emphasized that viewers who find the content objectionable have the option to switch to a different channel, citing the protection of freedom of expression under Article 19 of the Constitution, which also applies to television programs.
Creators & Performers Demand Creative Rights in AI Proliferation Globally
In an open letter leading global organization representing artists and creators such as the International Confederation of Societies of Authors and Composers (CISAC), Latin American Composer and Songwriter Alliance (ALCAM), Asia-Pacific Music Creators Alliance AEPO-ARTIS (APMA), African Music Academy (AMA) and the International Council of Music Creators (CIAM) and more have issued a powerful and united call for global solutions that compel Artificial Intelligence (AI) companies to responsibly compensate creators for their works that "are exploited". This resounding demand aims to regulate generative AI technologies and protect the copyrights of musicians worldwide against unauthorized use by AI systems.
The letter outlines seven essential principles to ensure the ethical implementation of artificial intelligence, especially generative AI.
Read more about the letter here.