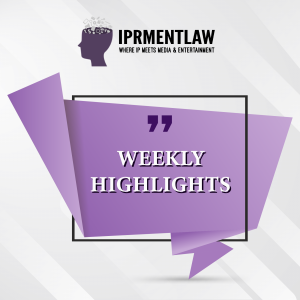 Supreme Court Dismisses Plea Against Anubhav Singh Bassi, Reprimands Petitioner Advocate
A Bench of Justice S. K. Kaul and Justice Sudhanshu Dhulia promptly rejected a writ petition against stand-up comic Anubhav Singh Bassi filed by Advocate Farhat Warsi claiming that Bassi's latest stand-up show 'Bas Kar Bassi' portrayed the judiciary and the legal fraternity in a negative light.
"Do you not have something better to do; and you are practicing (law) for 20 years you say? Dismissed. Not a matter for Article 32," the Court remarked.
Read order here.
Delhi High Court Grants Relief to Zenith Dance Institute, Injuncts Zenith Dancing and Music in Trademark Case
Justice C. Hari Shankar on Tuesday, granted ad interim injunction to Zenith Dance Institute against Zenith Dancing and Music as the defendant's marks infringed the registered device mark of the plaintiff.
It is a curious case because it was argued that the plaintiff approached the Court with unclean hands, concealing that the plaintiff in pursuance of registration of its word mark 'ZENITH ARTS' had replied to the registry's first examination report which had cited the rival mark by stating that their mark was "visually and identically different from cited marks."
The Hon'ble Judge addressed this and agreed that the plaintiff was estopped from deviating from its statements submitted to the trademark registry by invoking the law laid down in Raman Kawatra v. K.E.I. Industries Ltd. (296 (23) DLT 529)
However, the Court ruled that the extent of the estoppel was limited to the plaintiff's word mark and it cannot apply beyond that. Therefore, the plaintiff cannot be estopped from asserting a plea of infringement by the defendant of the plaintiff's registered  device mark.
Read the order here.
Anurag Thakur Meets with OTT Platforms; Discusses Content Regulation, User Experience and Accessibility for the Specially Abled
The Minister of Information & Broadcasting met with various OTT platform representatives in New Delhi on Tuesday and discussed content regulation, user experience, enhancing accessibility for the specially-abled, and overall growth & innovation of the sector.
Having announced a new 'Best Web Series Award' at the International Film Festival in Goa to be presented to a web series showcasing exceptional original work in an Indian language earlier in the day, he emphasised the responsibility of platforms to avoid vulgarity and abuse camouflaged as 'creative expression' in the meeting.
"India is a diverse country; OTTs must also reflect the collective conscience of the country and provide a healthy viewing experience for people of all age groups." he said in a tweet.
OTT Apps Approach CCI following Madras HC's Order Restraining Google from Delisting Disney+Hotstar but Mandating a 4% Commission to be Paid On App Downloads
Novi Digital, a Disney-owned subsidiary of Star India, secured interim relief from the Madras High Court amid its plea against Google Play Store's new billing system. The court's ruling, issued on Tuesday, restrains Google from delisting Disney+ Hotstar, and mandates that Novi Digital pay a 4% commission on app downloads through the Play Store.
According to Novi Digital, the recent billing policy lacks flexibility for app developers since they are compelled to include Google Pay as a payment option, irrespective of whether they utilize a third-party payment gateway.
Earlier, fifteen other companies challenged the policy including Matrimony.com, People Interactive, Info Edge India, Arha Media and Broadcasting, Primetrace Technologies, Cold Brew Tech, Mebigo Labs, Crescere Technologies, Verve Mobile, Catchup Technologies, Sorting Hat Technologies, Alt Digital Media Entertainment, Nasadiya Technologies, and Ananda Vikatan Digital.
In disruptive move, OTT players including Disney+ Hotstar, Zee5, Voot, SonyLIV, Manorama Max, SunNXT and Discovery+ being represented by Indian Digital Media Industry Foundation (IDMIF) moved the Competition Commission of India against Google's app store billing policy.
Delhi High Court Grants Interim Relief to RxPrism in Patent Infringement Case Against Canva Over Its 'Present And Record' Feature
The Delhi High Court on Tuesday delivered an interim order restraining Canva, the Australian graphic design platform, from offering its "Present and Record" feature within India. This ruling comes in response to a patent infringement suit filed by RxPrism Health Systems Private Limited.
RxPrism, renowned for providing AI-based customer engagement services to pharmaceutical companies, initiated the legal action seeking a permanent injunction against Canva's infringement of their patent known as "My Show & Tell," launched in May 2020.
Taking note of the plaintiff's strong case of infringement, supported by claim charts, and Canva's challenge to the patent lacking credibility, the court's interim order found the case to be prima facie in their favour of RxPrism. Justice Prathiba Singh underscored that denying the injunction could result in irreparable harm and injury to RxPrism.
She further directed Canva to deposit Rs. 50 lakhs as a security measure with the Registrar General to address RxPrism's claims for past use of the infringing feature in India. The amount is based on revenue and sales figures from users who availed the feature until June 30, 2022.
Read order here.
ASCI Introduces New Guidelines for Advertisements for Charitable Causes, Will Now Require Crowdsourcing Platforms to Disclose Fees Charged by Them
The Advertising Standards Council of India released new guidelines for advertisements for charitable causes with emphasis on Chapters 1 & 2 which require ads to be truthful and avoid causing grave or widespread harm or offence respectively.
The guidelines include prohibiting any form of shaming or guilt-tripping individuals who do not support the charity, and avoiding the use of graphic images that disrespect the dignity of those in need, especially children. Distressing images will be required to be blurred and accessible only to interested viewers and Advertisers must disclose if funds raised for a specific case or beneficiary could be used for other purposes. Additionally, crowdsourcing platforms must transparently state any fees charged for managing or raising donor funds in the advertisements.
Read the guidelines here.
India's Entertainment and Media Sector to Reach $73.6 Billion by 2027: PwC Report
According to PwC's 'Global Entertainment & Media Outlook 2023-2027' report, India's entertainment and media sector is expected to grow annually at a rate of 9.7%, reaching $73.6 billion by 2027. The report highlights the impact of evolving consumer preferences, increased internet access, and emerging technologies on the industry. Despite a global slowdown in the sector, India witnessed a promising 15.9% growth in 2022, totaling USD 46,207 million. With the rise of over-the-top (OTT) platforms, the gaming sector, traditional TV, internet, out-of-home (OOH) advertising, and the metaverse, India's E&M industry is projected to flourish. Additionally, the launch of commercial 5G services in India in 2022 is expected to shape the industry's capex in 2023.
Read the report here.
Supreme Court Puts a Halt to Adipurush Proceedings in Various High Courts; Rejects PIL Seeking Certification Cancellation
The Supreme Court on Friday, stayed proceedings against the film 'Adipurush' in the Allahabad and Calcutta High Courts. The Allahabad High Court had earlier ordered the makers of the film to appear before it on 27th July as the film faced widespread backlash.
A Bench of Justices S. K. Kaul and Sudhanshu Dhulia dismissed a PIL challenging the CBFC Certification granted to the film. "Why should we interfere under Article 32? Everybody is now touchy on everything. Should we scrutinise everything? Tolerance for films, books these days is going down," Justice Kaul remarked.
Moreover, the Court dismissed the PIL stating, "We may hold here that cinematographic depictions play with the original material, to what extent it is permissible a body is there. It is not possible for this court to interfere for each person's sensibilities under Article 32. These are not matters for this Court to hear and sit in appeal of certification. If anyone is aggrieved by decision of appellate authority they can pursue remedies under law."
Ministry of Information and Broadcasting Cancels Registration of 2 MSOs for Violating Cable TV Networks (Regulation) Act
The Ministry of Information and Broadcasting has issued an advisory directing satellite TV channels/broadcasters not to provide signals to two Multi-System Operators (MSOs), namely 9 Star Digital Cable Network and M/s Top Ten Cable Network.
The registration of these MSOs has been cancelled due to violations of the Cable Television Networks (Regulation) Act, 1995.
The MIB has already cancelled the registration of a total of 11 MSOs between April 12, 2023, and April 31, 2023 and according to the guidelines issued in November 2022, TV channels are only allowed to provide satellite TV channel signal reception decoders to MSOs/Cable Operators registered under the Cable Television Networks (Regulation) Act, DTH operators registered under DTH guidelines, IPTV Service Providers permitted under their existing Telecom License, or authorized HITS operators.
Anurag Thakur Introduces Cinematograph Amendment Bill 2023 in Rajya Sabha; Aims to Tackle Film Piracy
It has been a busy week for the Minister of Information and Broadcasting, after holding meetings with OTT platforms to discuss content regulations and unveiling the new 'Best Web Series Award' for the IFFI Goa, the minister moved to withdraw the Cinematograph (Amendment) Bill 2019 which was approved by the house and introduced the Cinematograph (Amendment) Bill 2023 in the Rajya Sabha.
"The Indian film industry is a crucial part of our cultural heritage, but piracy has been a constant threat to it. The Union Cabinet's approval of Cinematography Act 2023, is a major step forward towards safeguarding and promoting the film industry." He said.
Officials have also said that the bill has provisions for categorizing films based on age group, rather than the current practices of 'U', 'A', and 'UA'.
TRAI Proposes Independent Statutory Body and Global Agency to Oversee Responsible AI Usage
India's telecom regulator, TRAI, has urged the government to adopt a comprehensive regulatory framework for responsible AI technology development.
TRAI recommended rechristening its previously suggested body, the Data Digitisation & Monetisation Council (DDMC), to AIDAI, as it had initially focused on studying the impact of emerging technologies like AI on data ethics. It proposed the establishment of an independent statutory authority, the Artificial Intelligence and Data Authority of India (AIDAI), to oversee responsible AI development and regulation of use cases in the country.
Emphasising India's role in shaping global AI standards and governance, TRAI also called for collaboration with international agencies and governments to establish a primary international body for developing, standardising, and responsibly utilising AI. The recommendations were issued after a consultation paper titled 'Leveraging Artificial Intelligence and Big Data in Telecommunication Sector.'
635 URLs Blocked under IT Rules Since 2021, Reveals I/B Minister
The Union Minister of Information and Broadcasting Anurag Thakur revealed that public access to 635 URLs has been blocked under the IT Rules 2021 in response to a question asked by TMC leader Derek O'brien.
"Under the provisions of Part-III of Information Technology (Intermediary Guidelines and Digital Media Ethics Code) Rules, 2021, the Ministry of Information and Broadcasting has since December, 2021 issued directions for blocking from public access of 635 URLs, including 10 websites and 05 Apps," he said.
Bengaluru Court Allows Makers of Hostel 'Hudugaru Bekagiddare' to Release Film After Depositing ₹50 lakh Listing Previous Restraint
In a quick turn of events, a commercial court in Bengaluru allowed the producers of the film 'Hudugaru Bekagiddare' to release their film on Friday after depositing Rs. 50 Lakh. This comes after an order passed by the court only a day before restraining the film's release after finding that there was, prima facie, a case of breach of contract between the producers and actress Divya Spandana.
The court had earlier passed an ex-parte order in favour of the actress while acknowledging that although the filmmakers had rights to use the clips, such rights were subject to the actor giving her consent for the same.
If the movie were released and if the trailers were not taken down, the actor's rights under the agreement and her moral and performer's rights under the Copyright Act would be affected.
However, the Additional City Civil Judge Ravindra Hegde on Thursday ruled that although a prima facie case was made out, the balance of convenience was not in favour of continuing the interim order. Although there was a breach, it could be compensated for in terms of money. Furthermore, it highlighted that the trailer had been viewed 42 lakh times and that the film was scheduled to be released on Friday. If the film was not released as planned, the filmmakers would suffer irreparable harm and theatres would experience inconvenience, potentially leading to further complications and litigation.
Read order here.
Delhi HC Asks Centre's Position on Disclaimer for Satirical Website 'Dowrycalculator.com
The Delhi High Court on Thursday, asked the Centre to provide its stance on a disclaimer proposed by the owner of the satirical website 'Dowry Calculator.com.' in 6 weeks.
The website's owner, Tanul Thakur, challenged the Centre's communication dated 20th June 2022, along with a report from an inter-ministerial committee, which directed that his website remains blocked. The domain name was registered in 2011 and was first blocked in 2018 based on a complaint by the then Union women and child development minister Menaka Gandhi.
Thakur argued that the website aimed to highlight the social issue of dowry through satire and presented a written offer of a disclaimer during the hearing. The respondent however contends that a disclaimer will be of no use.
The court granted the Centre six weeks to respond and scheduled the plea for October 4. The case involves considerations of freedom of speech and expression and the application of reasonable restrictions in such matters.
Centre Drafting Cybersecurity Bill to Modernize Online Safety Laws
The Government is working on a cybersecurity bill to address various aspects of online safety and establish objective parameters and rules for combating cyber fraud. The proposed legislation aims to create a contemporary legal framework to tackle 21st-century cybercrimes, which are currently governed by amended provisions of British-era laws from the 19th century. The bill may be part of the larger Digital India Bill and is likely to outline penal provisions for cyber breaches while defining who qualifies as a cybercriminal under the new law.
The Ministry of Electronics and Information Technology has entrusted the Management Development Institute in Gurugram and Supreme Court advocate N. S. Nappinai's Cybersaathi Foundation to develop the finer details of the draft. The bill is at a pre-drafting stage and is expected to undergo further consultations before its finalization.
In the pre-drafting stage of the Digital India Act, the government conducted two rounds of public consultations earlier this year, resulting in specific provisions being included in the draft. The Act is set to be the IT ministry's third significant law overhaul. In 2022, the Ministry of Electronics and Information Technology withdrew an older version of the Data Protection Bill, which had been pending for over three years. Subsequently, a new version, named the Digital Personal Data Protection Bill, was released in November 2022 for public consultation which is expected to be introduced in the Monsoon Session of Parliament this year.
Ministry of I/B Issues Advisory, Publishers of Online Content to Include Classification Rating
The Ministry of Information and Broadcasting on Tuesday issued an advisory directing publishers of online curated content to display age-based classification ratings in advertisements and other promotional material used by them on various media platforms.
Read the advisory here.