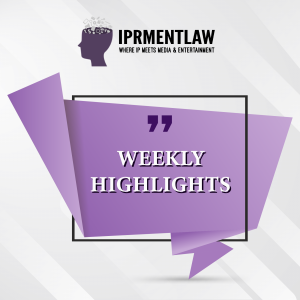 Delhi High Court dismisses PIL which sought establishment of a censor board for Non-Film Songs released on Internet
The Delhi High Court has dismissed a public interest litigation that sought the establishment of a regulatory authority or censor board to review media content and censor non-film songs and their contents, including lyrics and videos, before releasing them on the internet. The petition demanded that all non-film songs with "obscene/vulgar" content be banned immediately. The division bench said that the Central Government has established a clear regulation or regime to govern the information or content made available to the general public via various media platforms.
Bombay High Court directs GoDaddy to inform Swiggy about each instance when a domain name containing trademark 'SWIGGY' is registered
The Bombay High Court ordered GoDaddy, a Domain Name Registrar, to notify Swiggy whenever a domain name containing its trademark 'SWIGGY' is registered. However, the court refused to prevent GoDaddy from registering future domain names that infringed on Swiggy's trademark. The Hon'ble Court further said that Swiggy will be free to seek relief against any future infringements as soon as GoDaddy becomes aware of them.
The Hon'ble Court, however refused Swiggy an omnibus and global temporary injunction. To come to this conclusion, the Court relied on the Snapdeal case decided by the Hon'ble Delhi High Court.
Bombay High Court restrains Yokoso Sizzlers from using a mark akin to Yoko Sizzlers
The Bombay High Court granted an ad-interim relief sought by Yoko Sizzlers restraining Pune-based restaurant Yokoso Sizzlers from using "the mark Yokoso Sizzlers or any other trademark identical with or deceptively similar" to Yoko Sizzlers' registered trademark until February 24, 2023. While granting an ad-interim relief, the court noted that the registration certificate clearly showed that Yoko Sizzlers registered the trademark on June16,1994, and accepted its contentions that the trademark has long been in the public domain and has a national and international presence.
Centre constitutes three Appellate Committees under the IT Rules, 2021
Based on the recently amended Information Technology (Intermediary Guidelines and Digital Media Ethics Code) Rules, 2021, the Centre established three Grievance Appellate Committees ("GAC"). The notification to that effect was issued on January 28, 2023. According to the notification, three Grievance Appellate Committees with three members each have been formed. According to the notification, three Grievance Appellate Committees with three members each have been formed.
The need for GAC arose as a result of a large number of grievances being left unresolved or inadequately addressed by Internet Intermediaries. GAC is expected to foster a responsive culture among all Internet Platforms and Intermediaries toward their customers. The GAC will be a virtual Digital platform that will only operate online and digitally, with the entire appeal process, from filing to decision, taking place digitally.
Gaming companies seek tweaks in draft amendments to the IT intermediary Rules
Meity had earlier this month released draft amendments to the IT intermediary rules to ensure that online games are offered in accordance with Indian laws and that users are protected from potential harm. These draft submissions included the role of the proposed self-regulatory body (SRB) and the process of registration of games on which online gaming platforms and industry bodies have put forth their suggestions. The gaming committee of the Internet and Mobile Association of India (IAMAI) has asked the government to establish a common framework for the SRBs to follow in order to ensure uniform compliance and transparency. Moreover, for the proposed self-regulator, the IAMAI has pitched that at least one member be a retired judge of the Supreme Court or a high court, "since the SRB will perform an adjudicatory function".
Actor Rajnikanth issues legal notice against those who are using his image, name etc. for commercial purpose without his consent
Rajnikanth, the actor, issued a legal notice on January 28, 2023, threatening legal action against anyone who uses his name, voice, image, or any other distinctive elements uniquely associated with him for commercial purposes without his permission. The said notice noted that Rajnikanth is an actor with a huge reputation who has appeared in films in many different languages for decades, earning him the title "Superstar." The notice argued that Rajnikanth's image, name, and distinctive photographs on digital and physical platforms are likely to cause public confusion and deception.