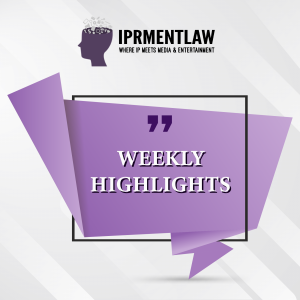 Class Action Lawsuit by artists again Universal Music Group Sued Over Its Spotify Equity Ownership
Recently, Hip-hop duo Black Sheep, best known for the 1991 album A Wolf in Sheep's Clothing, sued Universal Music Group in a class action lawsuit. As reported by music businesses worldwide, the following claims were made by the artists – "​​(i) That Black Sheep and other artists signed to Universal should have been paid 50% of royalties from Spotify since 2011 due to a clause in their contracts pertaining to "net receipts"; (ii) That UMG agreed to accept lower royalty rates from Spotify in exchange for receiving equity in the streaming service back in 2008; and (iii) That Black Sheep and other artists should also have received 50% of UMG's Spotify equity (or the value of it) because, according to the duo's suit, this would be "proportional" to their royalty contract." See more here.
Cable operators move Kerala High Court against broadcast tariff amendments, court refuses to pass interim order staying NTO 3.0
As reported by TOI, the All India Digital Cable Federation (AIDCF) challenged the TRAI amendments to the new tariff order (NTO) 2.0 before the Kerala High Court. The HC is requested to set aside amendments to the NTO 2.0 and order the TRAI to maintain the status quo till their petition is disposed of. It is prayed that TRAI be directed to examine and fix the MRP for TV channels based on genre and with a maximum cap on the price of any channel to ensure the orderly growth of the digital cable television sector. The court , after a detailed hearing in the matter said that it was not inclined to pass any interim order staying the contentious amendments. (see here).
Canada extends copyright protection for another 20 years to meet new trade obligation
1 January of every year is celebrated as Public Domain day. (But) Canada extended its copyright by 20 years i.e. work that were going to come into the public domain will now come in 2043. Earlier the protection was the life of authors + 50 years, and now its life + 70 years. The change came in pursuit of a commitment under the new North American free trade deal that requires Canada to match its copyright protections with those in place in the United States since 1998. (See here).
Note – for the purpose of this tidbit, public domain works are those works whose copyright protection has expired. However, public domain works include everything on which copyright protection cannot be extended; the idea-expression dichotomy gets its legitimacy from it.  See this piece by James Boyle here.
Cinema halls and multiplexes have the right to regulate moviegoers from carrying food and beverage from outside: Supreme Court (See here)
Interesting judgment ahead –  you can't carry food in the cinema halls! Hmm seems like a known nous? The Supreme Court recently has also held the same, giving an owner of a cinema hall the right to regulate movies goers from carrying food and beverage from outside into the movie hall. The judgment came after a batch of appeals by theatre owners and the Multiplex Association of India challenging a 2018 verdict of the Jammu and Kashmir High Court. The J&K High Court ruled that multiplexes and theatres cannot prevent the audience from carrying their own food and beverages inside the movie halls. The Apex court noted that "A cinema hall is the private property of the owner of such hall and he is entitled to put such terms and conditions as he deems fit provided the same are not contrary to public interest or safety,"
Tobacco warning on the OTT platform (See here)
As TOI reported, the health ministry is in consultation with the Information & Broadcasting ministry and other key stakeholders on issuing a notification to OTT platforms (e.g. Netflix, Hotstar etc.) to carry anti-tobacco warning messages as we see in movies screened in theatres and TV programmes. Currently, it is mandatory for all films and programmes shown in theatres and television channels to display an anti-tobacco health warning at the bottom of the screen during the period of display of the tobacco products or their use in the film and television programme. Plus, they are also required to display an anti-tobacco health spot, of a minimum thirty seconds duration each at the beginning and middle of the films and television programmes. According to a ghastly Global Youth Tobacco Survey (2019), nearly one-fifth of students aged 13-15 have used tobacco in some form.
'World's first robot lawyer' powered by AI to defend a human in court in a speeding (see here)
World's first ever robot lawyer … sound entertaining? Yes, the artificial intelligence (AI) enabled legal assistant will help a defendant fight a traffic ticket. The said AI robot was created by a startup named 'DoNotPay', a legal services chatbot founded by Joshua Browder in 2015. It will run on a smartphone and listen to all the court arguments in real time, and then tell the defendant what to say. It was launched as a chatbot to provide legal advice to consumers dealing with late fees or fines. While the hearing is said to happen in February, the exact date, location of the court, and the name of the defendant have not been disclosed yet.